Miley Cyrus Posts Pre-Shower Topless Selfie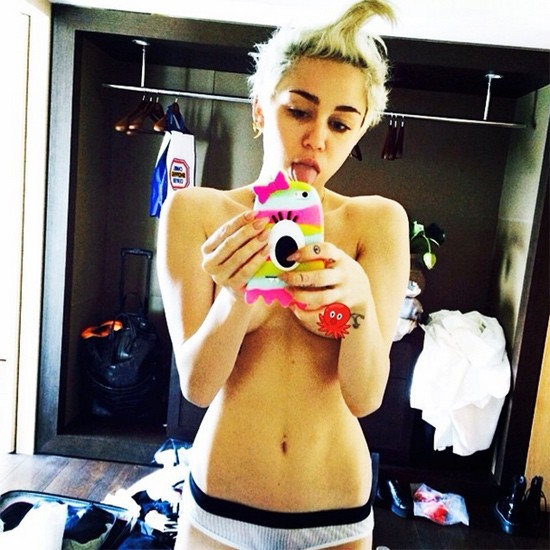 Miley Cyrus had fun with her camera this weekend, posting images of herself pre and post-shower.
The singer/actress uploaded a snap wearing just underwear and covering her breasts with her cell phone and an octopus emoji.
The star's short hair was stuck straight up in the air, resembling Alfalfa from "The Little Rascals." She captioned the image:  "#preshoweralfalfaselfielife" (pre shower Alfalfa selfie life).
In a second image, Cyrus is lying down wearing a black and white bikini. She wrote: "#postshowerinstagramwhoreselfielife" (post shower instagram whore selfie life).
The singer is currently touring Europe during her "Bangerz" tour. She will begin the North American leg of her tour on Aug. 1.
She made headlines last week while performing in Milan, Italy, by dancing with a cardboard cut-out of fellow former Disney star Selena Gomez. Cyrus was singing her latest single, "FU," during the routine.
#postshowerinstagramwhoreselfielife