Miley Cyrus Posts Photo Of Herself Wearing Engagement Ring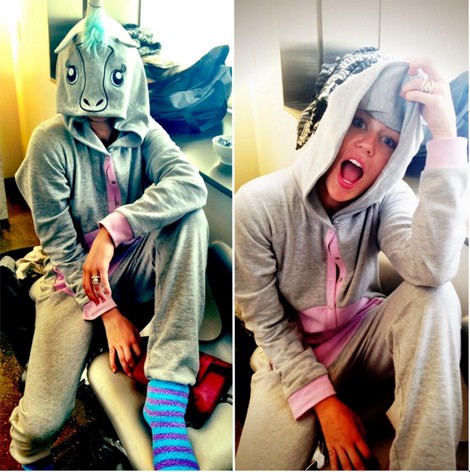 After prompting speculation that she and fiance Liam Hemsworth called off their wedding, Miley Cyrus is wearing her engagement ring again.
The singer/actress posted an image of herself on Twitter wearing animal-themed pajamas and the giant, 3.5 carat Neil Lane diamond ring on her finger.
She wrote: "When you don't know what to wear ... Wear a onezie. #killtwobirdswithoneonezie."
Maybe she should have written: "When the media thinks your wedding is off, make sure to wear your engagement ring again to stop the rumors."
Earlier this month, Cyrus stepped out sans ring after Hemsworth was linked to "Mad Men" star January Jones. Hemsworth also left the country to spend time with his family in Australia.
Last week Cyrus, 20, alluded that the piece of jewelry was being repaired and that's why she wasn't wearing it.
She also ranted online: "I didn't call off my wedding. Taking a break from social media."
Gossipers claim the couple has cooled things off because Hemsworth isn't thrilled with Cyrus' unruly behavior in recent months, which includes cutting her hair super short and adding to her plethora of tattoos.
On Thursday she was inked by celeb tattoo artist Kat Von D. She added a large drawing of a human heart to her forearm.