Miley Cyrus Posts Naked Shower Selfie With New Pooch Emu
Singer/actress Miley Cyrus finally decided that it was time to get another dog after mourning the loss of her beloved pet Floyd.  
Back in April Cyrus made the sad announcement on Twitter that Floyd had passed away.  Shortly thereafter, mom Tish brought home a dog named Moonie for her daughter.  However, it wasn't long before Cyrus parted ways with the pooch, citing that it was way too soon to raise another animal.
Time has apparently healed all wounds. The singer-actress recently took to her Instagram account to share the below photo. She captioned the picture: "ending the best day ever giving emu baby a shower in my bedazzled space cap cuhhh."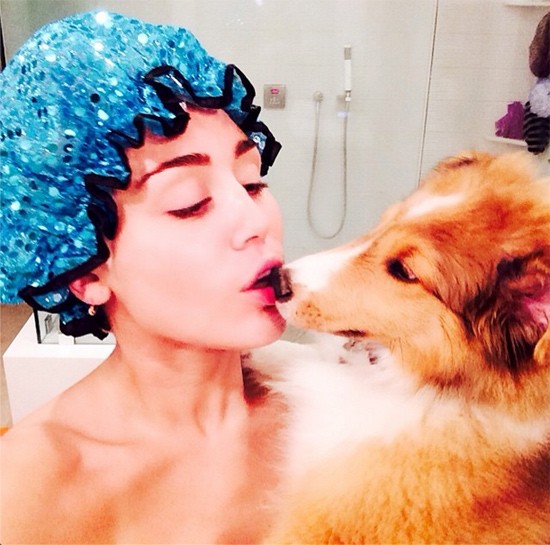 Two days ago, she shared a shower photo of herself and her new pet Emu. She captioned this photo: "I meannnnnnn #showertimewithbabyemu."
Emu joins Cyrus' doggie entourage alongside Bean, Happy and Mary Jane.
Last week the pop star talked to Australian radio host Sophie Monk of 2DayFM Sydney and said she loved touring the world, but she misses her dogs incredibly.
She explained that her pets would get quarantined by other countries if she brought them along.