Miley Cyrus Poses Topless On Rolling Stone Cover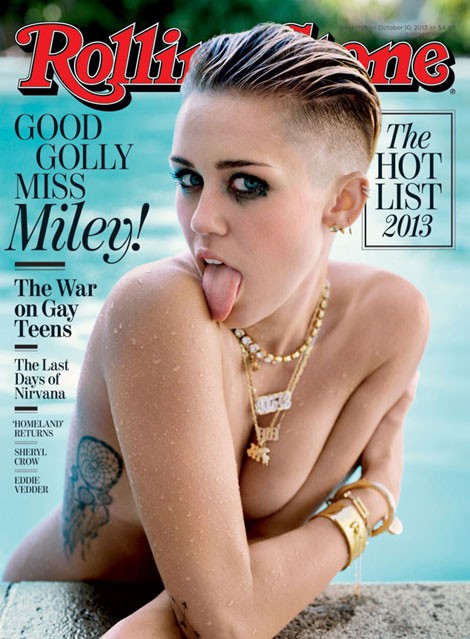 It's no surprise that Miley Cyrus stripped off for the new issue of Rolling Stone magazine. The pop star has been pushing the decency envelope in recent months to promote her upcoming album "Bangerz."
The singer is pictured topless in a swimming pool on the cover of the magazine. Her eye make up is smudged, and she sticks her tongue out at the camera.
During the interview for the music mag, Cyrus had the words "Rolling $tone" tattooed on the bottom of her feet. She also went skydiving as part of the Q&A.
Last month she stunned fans with a racy performance at the MTV Video Music Awards alongside Robin Thicke, and she told Rolling Stone she is tired of the fuss about her now infamous dancing, known as "twerking."
"Now people expect me to come out and 'twerk' with my tongue out all the time. I'll probably never do that s**t again," she explained.
Prior to the show, the pop star was visited by Kanye West, and the encounter made a profound impact on her.
"He came in and goes, 'There are not a lot of artists I believe in more than you right now. The whole room went quiet. I was like, 'Yo - can you say that again?' I just kept repeating that over and over in my mind, and it made me not nervous...," she said.
"The next day he sent a text: He said, 'I still can't quit thinking about your performance.' Kanye is the s**t. I kind of have a good relationship with him now. It's good to have someone you can call and be like, 'Yo, do you think I should wear this?' 'Do you think I should go in the studio with this guy?' 'Do you think this is cool?' That's what homies are supposed to do."