Miley Cyrus Poses Topless In Christmas Card To Promote Indie Film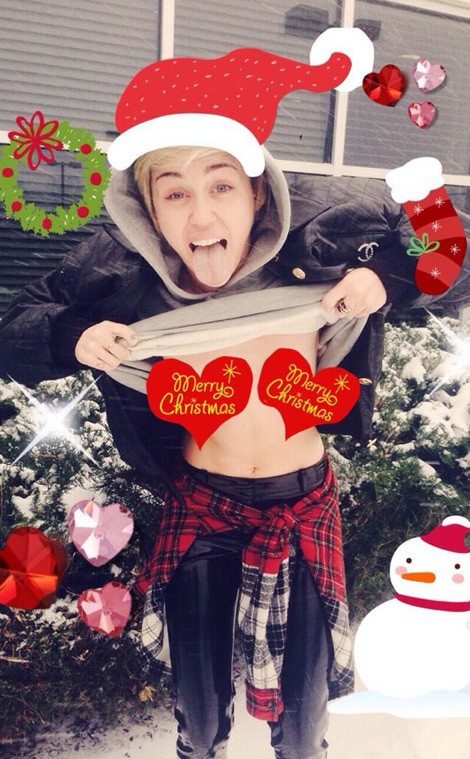 Miley Cyrus flashed her breasts on a new Christmas card that she posted on Twitter over the weekend. The singer is depicted pulling up her shirt and sticking out her tongue.
The star's nipples are covered by photoshopped hearts that say "Merry Christmas." A santa hat, wreath, snowman and stocking are also included on the image.
Cyrus, 21, captioned the pic: "Merry Christmas THANK YOU NY for being one of the few states to @freethenipple."

She later added: "It's not about getting your t**ties out. It's about equality."
The Free the Nipple campaign challenges censorship laws and claims that violence is often subject to less censorship than nudity. "Free The Nipple" is also an indie film.
On Friday night, Cyrus got into the holiday spirit at the Z100 Jingle Ball at Madison Square Garden in New York City. She wore a sequined hot pants costume and twerked with Santa Claus. She also got her butt smacked by a dancer dressed as a Christmas tree.
The pop star will also be performing New Year's Eve in Times Square for the "New Year's Rockin' Eve With Ryan Seacrest."