Miley Cyrus Poses In Provocative Twitter Pictures, Producer Says 'Lighten Up'

Miley Cyrus
has flirted with controversial photography again:
Adam Shankman
, the producer of her upcoming film
The Last Song
, posted photos of her straddling a chair and pushing herself up against him. Full-size photos below!
Defending his decision to post the photos, he says, "Miley is a sweet angel who works tirelessly and endlessly, and is allowed to have fun in the make up room! Seriously! Lighten up or no more behind the scenes pics! She's like my angel little sister."
It's not the first time Cyrus has come under fire for taking controversial pictures. She posed semi-nude for a Annie Leibovitz photoshoot, posted images of herself flashing her underwear; and in February, she was forced to apologize for taking snaps in which she and her friends appeared to mock Asians by pulling on their eyes.
Earlier this month a photo of a female
engaged in a sexual act
was said to be Miley. However, a rep for the star confirmed the image was a fake.
Lindsay Lohan posted a topless picture
of herself on Twitter recently as well!
What do you think of the pics? Leave a comment below!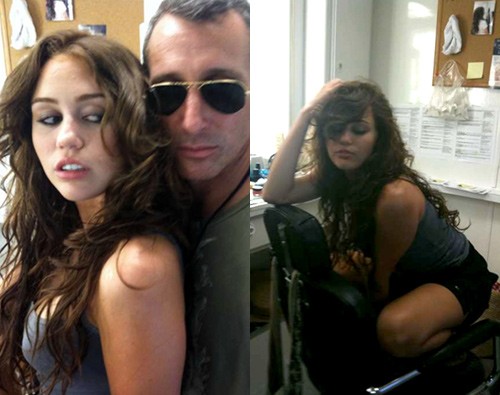 Images © Twitter