Miley Cyrus & P!nk's Buzzcuts At The VMAs - Who Looked Better?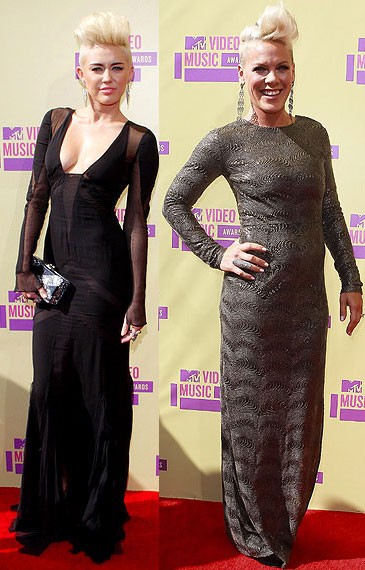 Miley Cyrus and P!nk showed up at the 2012 MTV Video Music Awards (VMAs) Thursday night with bleached-blond locks shaved on the sides and done up There's Something About Mary-style.

While P!nk went for a more conservative dress; Miley, still in her I'm a big girl now phase, showed off plenty of cleavage in a daring low-cut number.

Who do you think looked better?

P!nk thrilled the VMA audience with an acrobatic performance of her latest hit, "Blow Me (One Last Kiss)", while sitting on a pair of giant inflatable lips hanging from the venue's rafters.

Speaking of acrobatics, the singer recently banned husband Carey Hart from doing any back flips on his motorcross bike during competitions.

She tells talk show host Ellen Degeneres, "He's not allowed to do backflips. I put my foot down... It's kind of crazy. Most of the guys in that sport are in their early 20s and he's 37 now, so he doesn't bounce quite as well."

Her interview will air on Monday's Ellen DeGeneres Show.

Miley has a new album in the works, and has announced that she's put her wedding plans on hold to finish working on it.

"I've got so much going with this record," she said on the VMAs red carpet before the show.

"This record's going to, like, kill me. I'm really excited to get obviously married (sic), but I kind of already feel married. I know we're forever and I don't really need a (piece of) paper right now."
More pics of Miley and P!nk from the 2012 VMAs start here...