Miley Cyrus Plays 'Guitar Hero' During The Grammys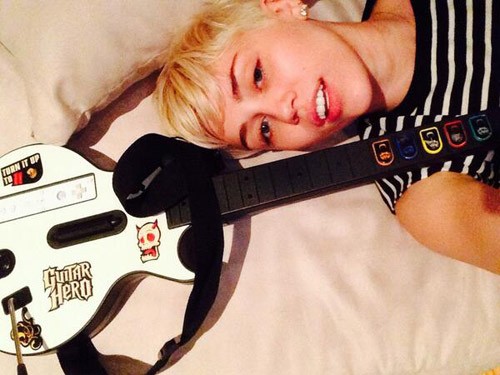 Miley Cyrus was performing during the 56th Grammys last night - just not at the show.
The pop star, who wasn't nominated for her songs "We Can't Stop" and "Wrecking Ball," entertained her fans by posting a clip of herself rocking out to KISS' "Rock and Roll all Nite" on the video game Guitar Hero. She also posed with the guitar controller for an album cover-worthy snap.
It was all part of a relaxing day for Cyrus, who told her followers she was just cleaning her home on "music's biggest night." She posted, "Cleaning/organizing today. My favorite way to spend a day off! #obsessivecompulsivedisorder," before adding later, "Probably gonna listen to @skyferreira all day while I clean #emo."
While her singles weren't nominated, Bangerz is eligible for album awards at next year's Grammys. We suspect she might be a bit busier when that time comes.