Miley Cyrus Performs In Her Underwear After She Fails To Complete Costume Change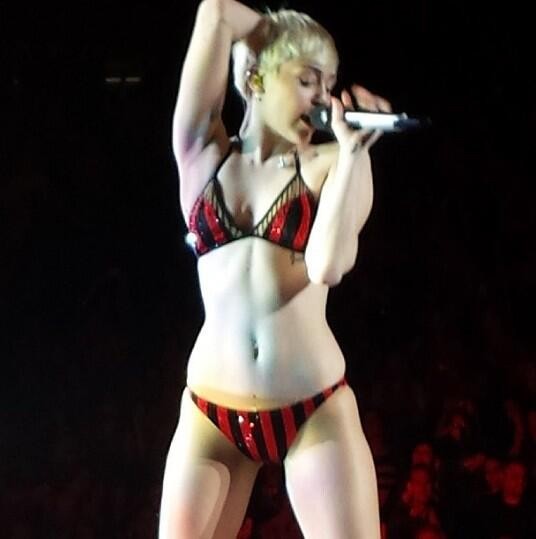 Miley Cyrus took a little too much time during a costume change during the Milwaukee, Wisconsin, stop of her "Bangerz" tour Sunday night and had to perform single "23" in her underwear.

"Not a new outfit for 23," Miley tweeted after the show, "I didn't make my quick change and I couldn't not come out for the song so I just had to run out in my undies :("

Miley's black-and-red striped bra and panties were part of her raunchy act though, and the only thing missing was her pair of red leather crotchless chaps with the number 23 on one leg and her name on the other.

"Never happened to me before. But I love my fans as much as they love me! I couldn't miss 23," she added later.

At this rate, it wouldn't surprise us if Miley just came out to perform topless or even naked. Her show has been criticized for being too risque for kids, and she even shot back at those with a gripe recently.

"Save your complaints for the McDonalds drive thru when they forget the 'fries with that,'" she tweeted late last month.

In addition to her flesh-baring outfits, dirty dancing and sexual innuendo, during Miley's tour kick-off in Vancouver, Canada, last month she got on her knees during the show to simulate a sex act on a dancer wearing a Bill Clinton mask.