Miley Cyrus Or Soulja Boy: Who Will Have The Longer Career?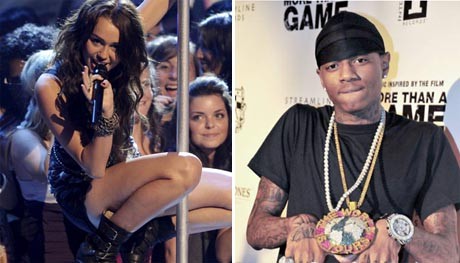 Miley Cyrus
Cyrus and
Soulja Boy
Tell'Em have achieved fame before the age of 20. They've had hit singles and popular Tweets. They have all the money in the world and a large fan base that follows them on Twitter and YouTube. And controversy arises whenever they say or do something outlandish. These two teen stars already have successful careers that a forty year old aspiring star would want. But with the rise of their careers, there will be a point where their level of fame will decline and vanish into oblivion. Between Miley and Soulja Boy, whose career will last the longest?
Miley Cyrus is only 16 and she has already surpassed Disney's former 'it' girl
Hilary Duff
in music, film, and television. Cyrus' music career has been impressive with two albums debuting #1 on the Billboard charts. She's performed at sold-out concerts with many of her
Hannah Montana
fans in attendance. She's also starred in
Hannah Montana: The Movie
which was a box office success. Whether it's acting or singing, this versatility may prolong her career. Let's face it, there aren't a lot of singers that can act or actors who can sing. Miley has proven that she can do both. And she has a loyal following that watches her TV show daily, buys all of her albums, and attends her films and concerts. Her natural talent and fan base may keep her around forever.
The same can be said about Soulja Boy. Like Cyrus, Soulja Boy has had commercial success with hit singles like "Crank That (Soulja Boy)" and "Kiss Me Thru the Phone." He had old ladies dancing to "Crank That (Soulja Boy)" in 2007. Young and old, he has a fan base that consists of mostly women who attend his concerts and kiss the computer screen every time he posts shirtless pictures of himself on Twitter. In this YouTube and Twitter generation, he attracts millions of viewers and listeners because he's young and releases songs that are fun to dance to which appeal to the masses, rather than just hip-hop audiences. This mass appeal and his online fan base may keep him in the limelight for a while.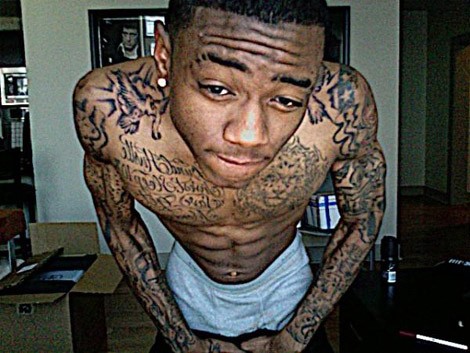 Image © Twitter Picture
On the other hand, Soulja Boy's music career may fade away like
Vanilla Ice
. Soulja Boy has been criticized by music critics and his peers in Hip-Hop for his rap skills or lack thereof. His songs have been called foolish and appealing only to the ringtone market. Rapper turned actor
Ice-T
called him out and criticized him for "killing hip-hop." All of this criticism and hatred by critics and other rappers may lead to Soulja Boy's downfall. Artists may choose not to collaborate with him because of this resentment towards him in the music industry. And fans may grow tired of him if he doesn't start writing real hip-hop songs. Fame may also play a role in his downfall. All of that money at a young age leads to huge shopping sprees. It's rumored that Soulja Boy
owes his landlord close to $10,000
in back rent. If he keeps spending all of his money on jewelry and fast cars, he'll be broke by the age of 25. Spending time in jail isn't going to prolong his career either. On October 7, he was arrested for alluding the police. Any amount of jail time will bring his career to a standstill.
Miley Cyrus' career has been Cinderella-like so far. But once Hannah Montana ends, she may see a decrease in popularity. She will no longer have Disney backing her and promoting her albums and films. And as she gets older, her young audience will turn somewhere else. There will come a day when there will be a new Disney 'it' girl with a better show that will overshadow Miley's show. Fans may grow tired of Cyrus and that's when she will have to move to an older audience with songs aimed towards adults. Cyrus has already alienated herself from her young audience by
deleting her Twitter account
which had 2 million followers. She may be headed in the same path as
Lindsay Lohan
or
Britney Spears
. She's already posted risqué pictures of herself online and
danced around a pole
at this year's Teen Choice Awards. She's not far behind of Lohan or Spears.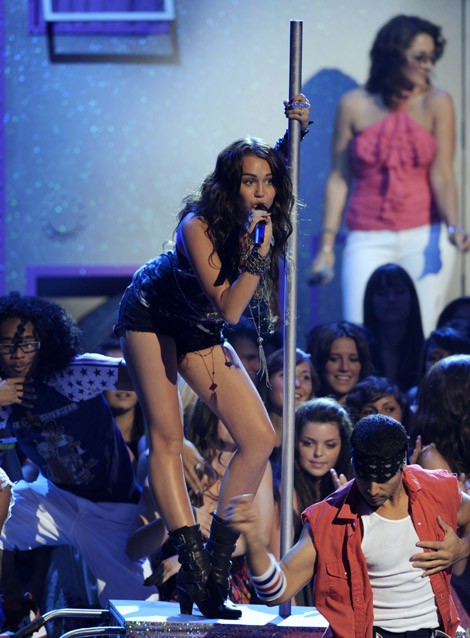 Image © AP Photo
You can make a case that both Miley Cyrus and Soulja Boy will have long careers because of their hit songs and large fan base. Soulja Boy has already proven he's more than a one-hit wonder, but will he ever be respected as a rapper? Miley is Disney's darling, but what will happen to her career once she is no longer Disney's number one girl? And how many years or decades will Soulja Boy and Miley be around to entertain us? As of right now, it looks like Miley Cyrus will have the longer career because she can sing, act, and has a mega-giant company on her side. But don't count Soulja Boy out. He may one day become a respected MC like
Lil Wayne
and outlast Miley Cyrus. Only time will tell.
Story by
Maccorley Mathieu
Starpulse contributing writer