Miley Cyrus Mocks Fergie in Hilarious 'Saturday Night Live' Black Eyed Peas Sketch (Video)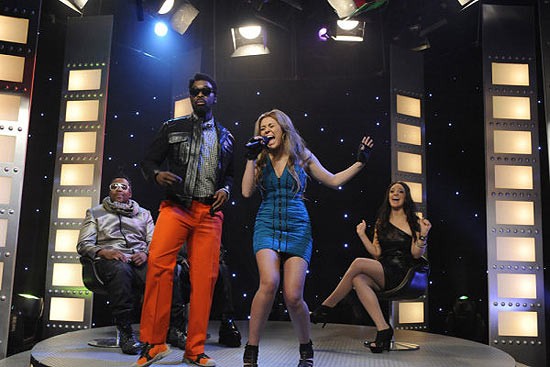 There were a lot of good things about this week's Saturday Night Live, and one of them - perhaps the funniest skit on Saturday's show - featured first-time host Miley Cyrus putting her singing voice to good use while mocking Black Eyed Peas singer Fergie.

Cast regulars Kenan Thompson and Andy Sandberg played the two 'other guys' in the group - apl.de.ap and Taboo, respectively - hosting their own talk show which gets crashed by Fergie (Cyrus) and BEPs frontman will.i.am (either totally downplayed or just unconvincingly by Jay Pharaoh).

And who did the "b-list BEPs" have on their "show" as their guest? Fittingly, it was another celebrity who's always overshadowed by the other two members of her group, "The best Kardashian sister" - Khloe Kardashian (always fantastically portrayed by the gorgeous Abby Elliot)!

It wasn't a dirty bit, but it was hilarious. Check it out below!
Click for more great Miley Cyrus pictures: