Miley Cyrus Joined By Madonna For 'MTV Unplugged' Hoedown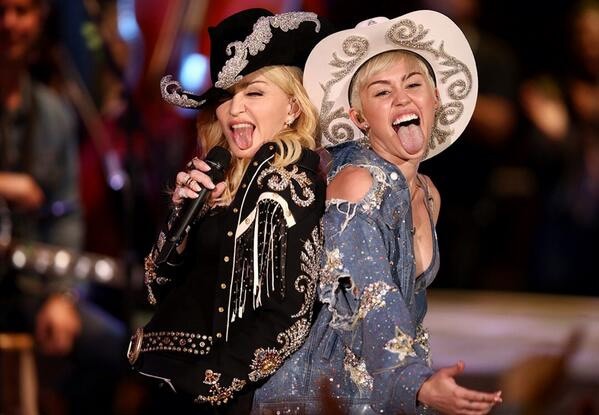 Madonna may have made out with Britney Spears and Christina Aguilera, but only one star would dare grind and grope her on stage -- Miley Cyrus.

The "Wrecking Ball" singer taped her MTV Unplugged performance, which was done in a Country & Western hoedown theme, on Tuesday night, and following her set of stripped-down versions of songs from her latest album, "Bangers," the 21-year-old welcomed the Queen of Pop, 55, to the stage.

The duo, dressed in denim and rhinestones and 10-gallon hats, grinded and gyrated during a mashup of Miley's "We Can't Stop" and Madonna's 2000 hit "Don't Tell Me."

"That was pretty f***ing cool, you guys," Miley told the crowd after. "It was one of those days that was pretty easy to get out of bed. I get to perform with Madonna in bedazzled cowboy boots. I can't really complain about anything."

Check out "Miley Cyrus: MTV Unplugged" tonight at 9 p.m. (EST) on MTV.
Miley's also no stranger to hoedowns...
@madonna YEEEE MAAAAA FUCKINNNN HAAAWWW YALLLL ????????? pic.twitter.com/rDTmRa6Yd6

— Miley Ray Cyrus (@MileyCyrus) January 29, 2014