Miley Cyrus, Jimmy Fallon & The Roots Perform A Capella Version Of 'We Can't Stop' (Watch It!)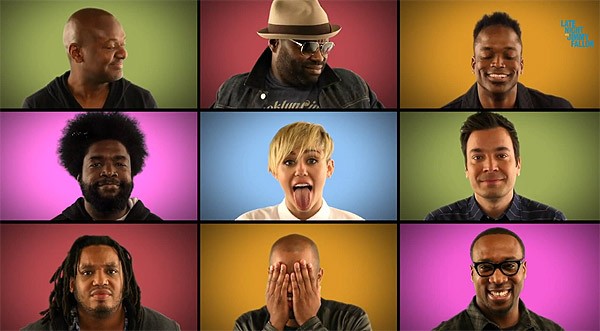 Miley Cyrus made a guest appearance on Jimmy Fallon's late night show on Tuesday, getting the full hour of attention and serving as the show's musical guest as well, performing new single "Wrecking Ball".

The singer was also joined by the host and house band The Roots for an a capella version of her hit single "We Can't Stop".

The performance was split up like the opening to The Brady Bunch, with Miley in the center square singing while the rest of the group provided backing vocals and the beats.

The 20-year-old talked about her recent appearance on Saturday Night Live, sayhing that she enjoyed getting back to her own roots in acting and a little bit of improv.

"That was a good time for me to show people that I don't just twerk and lick stuff, I can sing and I can act a little bit too," she explained.