Miley Cyrus' Homeless VMAs Date Is Wanted By Police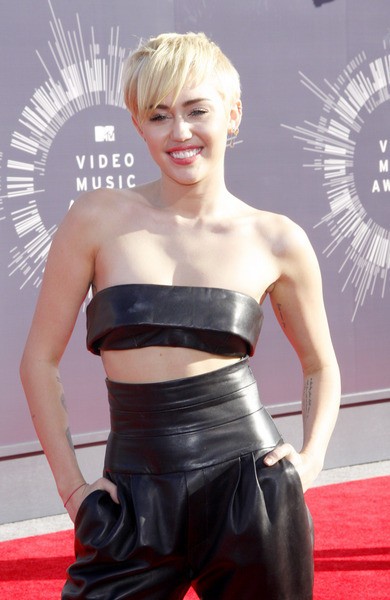 The blond homeless guy whom Miley Cyrus took to the MTV Video Music Awards violated his probation in Oregon and is wanted by police.

Many thought Jesse Helt was Cyrus' new boyfriend after he showed up with the singer on the red carpet. When the pop star won "Video of the Year" for "Wrecking Ball," Helt accepted the award for her in order to raise awareness about homeless youths. Cyrus met Helt, 22, last week at Hollywood shelter My Friend's Place.

Helt told the audience, "My name is Jesse, and I'm accepting this award on behalf of 1.6 million runaways and homeless youth who are starving lost and scared right now. I know this because I am one of these people. I have survived in shelters all over this city... Though I may have been invisible to you on the streets I have a lot of the same dreams that brought many of you here tonight."
She posted a photo of herself and Helt on Instagram with the caption: "my favorite dude ever #jesse #myfriendsplace #mtvvmas2014."
According to Eonline.com, there is a warrant for Helt's arrest in Oregon over charges of criminal trespassing and criminal mischief. In addition, in 2010 he was arrested and charged with burglary after allegedly attempting to break into an apartment in Oregon.

Helt has not kept his probation officer up to date about his whereabouts, according to court documents. He has also failed to take a drug test, broke curfew, and did not complete community service requirements.
Cyrus decided to bring Helt to the VMAs after realizing the "power" she had during her 2013 headline-grabbing performance. She told Ryan Seacrest: "I just didn't realize my platform, I didn't realize my power. I really realized it after the VMAs (last year)... there's something special and there's only few people that experience this that no matter what I do, there's no winning or losing, it's just going to be talked about. Period.
"There's going to be talk, so what do I want them to talk about? If I'm going to be given this loud of a voice and this big of an image and this big of a platform and this huge of an opportunity to talk to young people in America right now, what am I really trying to say? Because I don't think what I was trying to say is what happened the year before."