Miley Cyrus Goes Topless & Wears Buck Teeth For MTV Unplugged Promo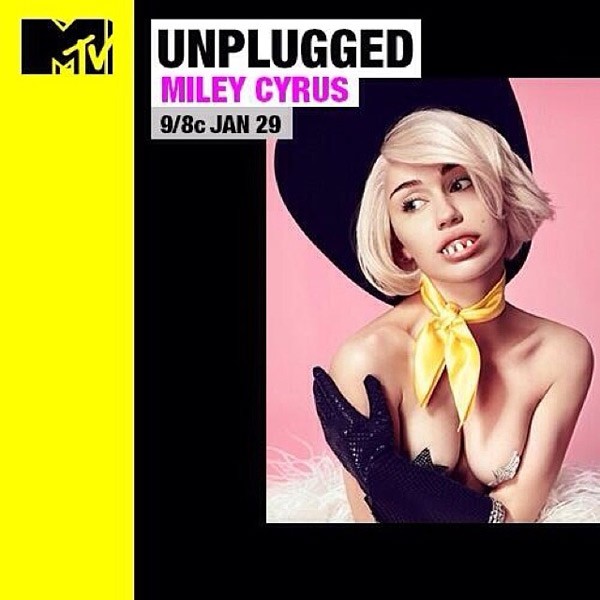 Miley Cyrus has apparently confused unplugged with undressed.

The 21-year-old singer has posed topless (with pasties covering her nipples) for an ad promoting her upcoming "MTV Unplugged" performance. She also wore a set of fake buck teeth and a blonde wig in the shot.

Miley posted the image on her twitter page Monday night with the message, "@MTV PRESENTS MILEY CYRUS: MTV UNPLUGGED YALL check it out January 29th!"

The singer will reportedly tone down her racy image a bit for the performance, when she'll perform stripped-down acoustic versions of her biggest hits for the MTV crowd.

"The Unplugged stage has been home to some of the most iconic live performances of all time," MTV bosses said in a statement.

"Miley's vision for the performance is like nothing we've ever seen. I can say that this will easily be one of the most memorable Unplugged performances to date."

The show has seen numerous memorable acts perform acoustic sets since it began in 1989, most memorably Nirvana, Eric Clapton, Alice In Chains and 10,000 Maniacs.

Miley also posted a shot of herself wearing fake teeth and holding her dog, along with a shot from rehearsals for her "Bangerz World Tour" on her Instagram page in the last week.