Miley Cyrus Goes Topless In The Desert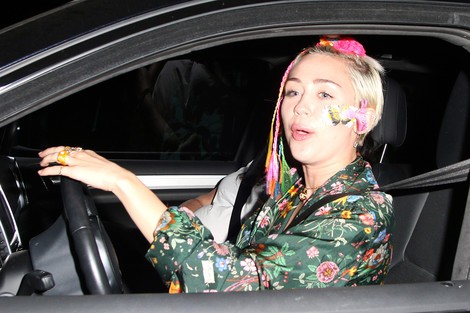 Miley Cyrus is showing some skin again. The singer posted a topless photo on Instagram last night in which her back is facing the camera and she's looking out onto a desert landscape.
She didn't include a caption for the image, in which she's wearing a pair of denim shorts and giving the peace sign with both her hands.
A few hours later she posted a photo of herself kissing filmmaker Brett Ratner on the cheek. "movie night w my favorite directorzzzz," she wrote.
She was also spotted leaving the Chateau Marmont in Los Angeles on Monday with colorful braids tacked to the side of head and a strange butterfly glued to her face.
One thing's for sure - she seems to be having a lot of fun!
Earlier this month she posed topless on Instagram to show off a new tattoo in honor of her deceased dog Floyd. The new ink is a picture of Floyd and the words: "With a little help from my fwends."