Miley Cyrus Goes Braless & Calls Liam Hemsworth Her 'Hubby' In The March Cosmo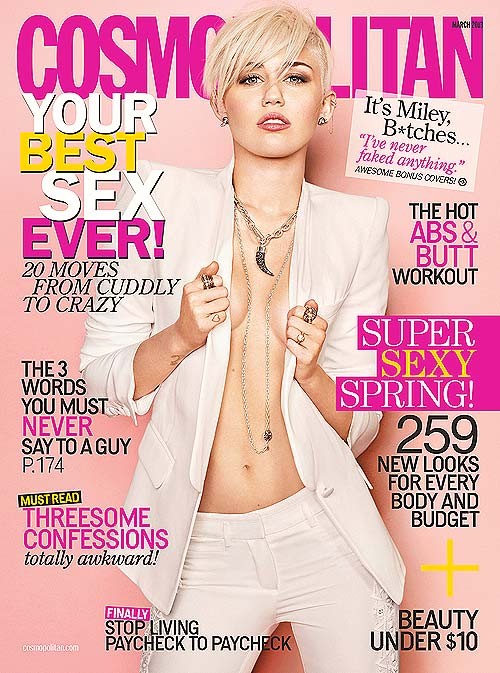 Miley Cyrus has been working hard to put her Disney-kid image behind her and show the world she's all grown up now.
Despite trying to prove it with a bra-less, plunging neckline on the cover of the March issue of Cosmopolitan, it seems that the 20-year-old may even be already married to longtime beau Liam Hemsworth.
Miley refers to Liam as her "hubby" in her chat with the magazine, leading many to speculate whether or not the couple -- engaged since May 31, 2011 -- have tied the knot in secret.

"I'll literally look at him and be like 'You are hot, dear God!' The other day, I turned on the pool heater and it was steaming, and he walked outside and took off his clothes and jumped in the pool," she says. "I was like, 'I'm gonna faint -- the hottest guy of my life is in a steaming pool. This looks like a Playgirl shoot.' So I took a photo and made it the background on my phone. My best friend grabbed my phone and was like, 'Who's that? He is so hot!'

"That's my hubby!" she exclaims.

The former Hannah Montana star is set to release a new album soon, produced in part by Pharrell Williams; and she says it'll have a "dirty-south" vibe to it. But regardless of what happens with the new disc, she puts her relationship with Hemsworth above all.

"Number one is my relationship with Liam," she says. "That's what I feel the most confident in because you never know; there's so much hype behind my new record, but it could come out and, worst-case scenario, everyone f-----g hates it."

Last November Miley was overheard telling a friend that she and Liam were planning to walk down the aisle this summer (June 11th in Palm Springs, Calif. to be exact), according to Perez Hilton.com. But despite referring to Liam as her hubby (and posting a few Instagram photos of the two of them at Christmas wearing rings on their wedding fingers), Miley still talks about her expectations for her big day.

"I feel the bigger the wedding, the more it becomes a target for people to ruin. So we just want it to be small, with the people who we'd take bullets for. I don't want to be looking at those photos and see people that I wish hadn't been there. C'mon, I can't even get coffee without a million paparazzi following me, so I don't know why anyone thinks I'm going to have this huge, extravagant wedding. That is so not who I am."

Check out more photos of from Miley's Cosmo shoot and read her full interview in the March issue of Cosmopolitan magazine, on newsstands Feb. 5.