Miley Cyrus Gives Borderline X-Rated Performance With Robin Thicke At MTV VMAs (Watch It)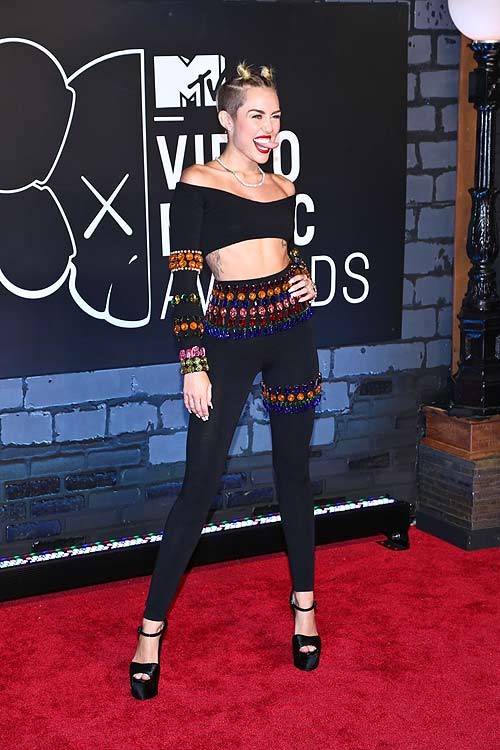 Miley Cyrus took her "twerking" to a whole new level Sunday night during the MTV Video Music Awards.

Following a performance of her hit single "We Can't Stop" she joined R&B crooner Robin Thicke for a performance of his smash hit "Blurred Lines", which also featured rappers 2 Chainz and Kendrick Lamar.

While the video for Thicke's single was originally banned by YouTube for featuring several topless women, Miley did her best to emulate the nudity by stripping down to a flesh-colored pair of skin-tight rubber panties and a matching bra.

The act bordered on x-rated as she bent over and gyrated against the singer as she repeatedly grabbed at his crotch while wearing a giant foam finger. She danced provocatively and even "twerked" against the front of Thicke's pants, dancing provocatively and sticking that finger out from between her legs to simulate... well, you know.

The performance had twitter buzzing, mostly with heavy criticism and lots of fun being poked at Miley, including a comparison of her red carpet look to Jim Carrey's classic Vera De Milo skit from In Living Color (watch it below).

Stars in the audience weren't too pleased with the act either. The camera showed singer Rihanna and her entourage sitting with British boy band One Direction, and all of them stared with blank faces. In a subsequent shot Will Smith and his family looked on in apparent shock (see their reaction at London's Daily Mail).


Get More: 2013 VMA, Artists.MTV, Music, Miley Cyrus