Miley Cyrus Gets Raunchy At DJ Borgore's 'Christmas Creampies' Gig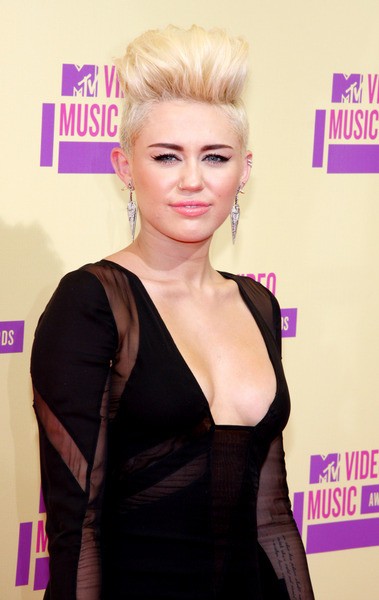 Miley Cyrus is at it again.

The 20-year-old singer and former star of Disney's Hannah Montana joined Israeli DJ Borgore on stage Saturday night at Los Angeles nightclub The Music Box for the DJ's "Christmas Creampies" gig. The two stars performed their collaborative single, "Decisions".

The crowd went crazy when Borgore began performing the single, only to stop about a minute into it to tell the crowd that the "special guest" he promised them was set to make her entrance.

Cyrus then danced onto the stage wearing a barely-there cleavage-revealing top, skin-tight pants, and a pair of thigh-high leopard print boots (see pics here).

Miley and Borgore picked up the song where it left off as Miley sashayed her way back-and-forth across the stage, dancing along with two topless strippers during the song; who each wore only thongs and pasties to cover their nipples as they pole-danced on either side of the stage.

"We wanted it to be special. I really wanted her here, really," Borgore told Rolling Stone magazine backstage. "I feel like the second I go on the mic and there's another person on the mic, it goes extremely well. The kids in the electronic area don't get to see this s**t anymore, all they get to see is just DJs raising their hands up, being DJs. And putting more of a live feel to a show, two people on the mic singing, it just feels great... I'm really excited about this."

Miley made headlines early last month when the racy video for "Decisions" premiered. She danced in the clip with porn star Jessie Andrews, made out with a guy wearing a horse head (it was actually boyfriend Liam Hemsworth), and got covered in birthday cake while wearing a revealing outfit.

Here's the best video of the performance we could fine (while it lasts - some adult language)...
And the original video for "Decisions":