Miley Cyrus Gets Explicit Again In Mike WiLL Made It's '23' Video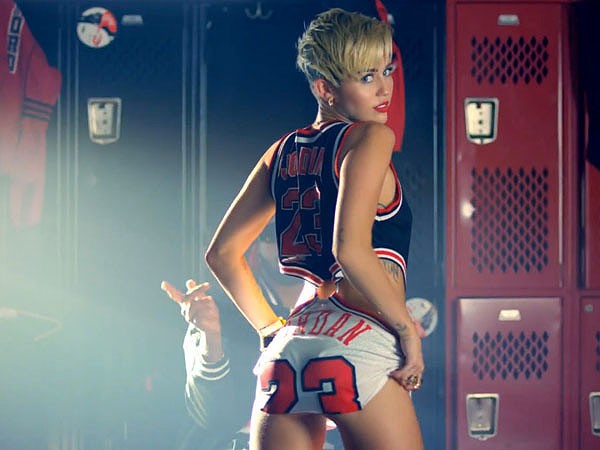 Miley Cyrus seems to be getting all the attention lately.

It all started with a not-for-the-faint-of-heart performance at the 2013 MTV Video Music Awards last month, followed by several twitter and Instagram photo posts while wearing risque outfits; a revealing photoshoot for Notion magazine; and the release of her video "Wrecking Ball", which features her swinging naked on the titular object and prancing around in skin-tight underwear.
Miley followed all that with a breakup from fiance Liam Hemsworth; wearing pasties and a thong to the iHeartRadio music festival; and doing and interview with Rolling Stone magazine -- which features her topless on the cover -- while having the words "Rolling $tone" tattooed on the bottoms of her feet (the latter of which a friend hinted at last week by saying she got a "Rolling Stones" tattoo in a private place, hinting at somewhere under the belt -- but most likely this was all part of the plan. Well played, Miley. Well played).

So what's she up to now? She features along with Wiz Khalifa in producer Mike WiLL Made It's new video, "23", about the shoes made famous by NBA baskeball legend Michael Jordan. Naturally, she's scantily clad.
Mike WiLL produced Miley's hit single, "We Can't Stop" and is currently rumored to be taking Hemsworth's place by her side, emphasis on rumored.

Miley's not as naked in this one as she was in "Wrecking Ball", but she still gets plenty risque with her outfits and for those playing along at home, her foam finger from the VMAs and her tongue both make appearances.

Check out the video below.
WARNING: the lyrics to the song contain some harsh language and several drug references, including being "high on purp" -- a reference to purple "drank", a concoction of promethazine/codeine prescription cough syrup mixed with sprite that's been linked to the deaths of two rappers. It's also a former favorite of Lil Wayne, who gave it up after suffering seizures. There's also a reference to smoking marijuana and an oral sex reference.