Miley Cyrus Dresses Up Like Lil' Kim In Racy, Breast-Exposing Costume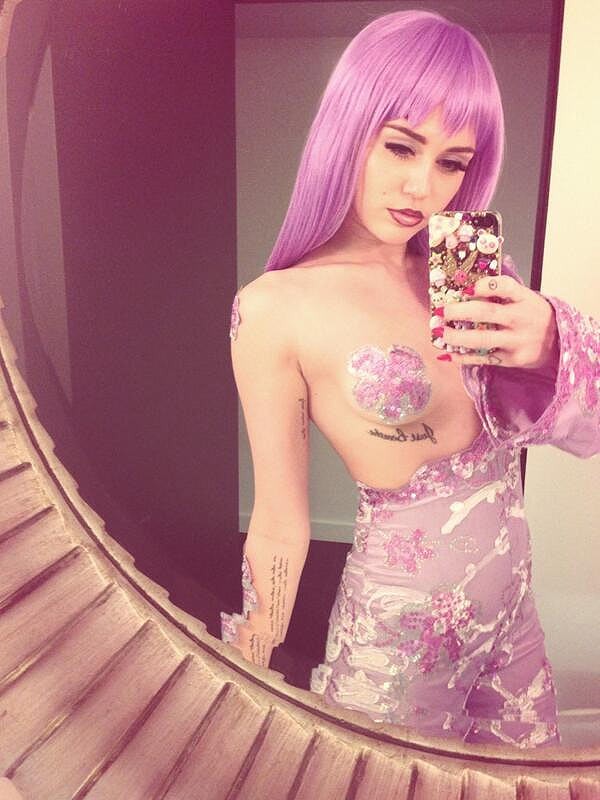 Miley Cyrus is at it again. The singer celebrated Halloween by posting a photo of herself channeling rapper Lil' Kim, who at the 1999 MTV Video Music Awards shocked fans in a one-shoulder bodysuit that exposed one of her breasts.
Cyrus uploaded a similar image on facebook with the caption: "Happy Halllllloweeeen."

She is featured wearing a purple wig with a matching bodysuit that shows off several tattoos, including the one reading "Just Breathe" under her breast, which is covered in purple paint.
The pop star also posted the image on Twitter, and Lil' Kim tweeted back: "Awwww. Look at my baby mileycyrus tonight!!! Looking Gorgeous!!! I wish I was there to squeeze your boob :) :) Love U so much !!!! #mytwin."
Cyrus, 20, has been making headlines for months, and her popularity soared after she performed at the VMAs in August. She shocked fans by dancing provocatively with Robin Thicke and making racy gestures with a foam finger.
Earlier this week she posted a photograph of some pornographic carved pumpkins, wishing everyone a "Happy F**king Halloween."