Miley Cyrus Doesn't 'Give A F--k' About Joint Smoking Controversy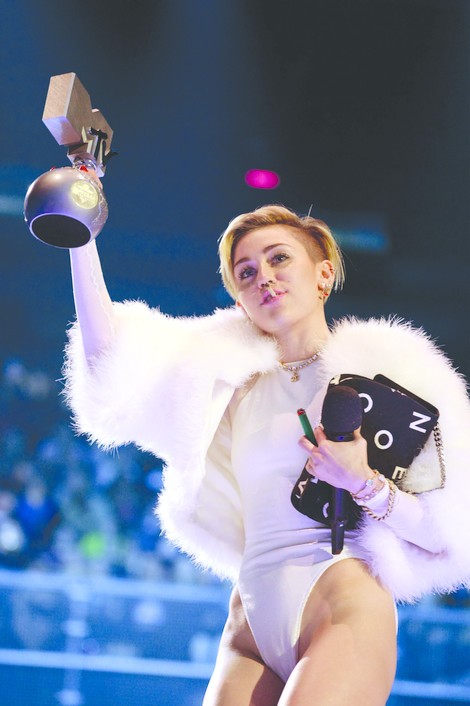 Miley Cyrus stirred up some controversy on Sunday at the European Music Awards in Amsterdam after she lit up a joint on stage while accepting her award for "Best Video."
The transparent star was obviously trying to top her racy performance at the MTV Video Music Awards over the summer in which she twerked and danced provocatively with "Blurred Lines" singer Robin Thicke.
Her reaction to the headlines over her marijuana stunt? "'Sometimes in life you just gotta decide to not give a f***," she tweeted on Monday. "Last night was a blurrrrrrrrrrrrrrr."
Maybe it was a "blurrrrrrrrrrrrrrr" because she was stoned.
The joint smoking footage was censored for American audiences, but clips of her stunt are available all over the internet.
Cyrus also made headlines for the ensemble she wore on the red carpet prior to her appearance on stage.
She showed up in a backless halter top dress that featured the faces of rappers Tupac and Biggie Smalls on it.  Her backside showed the stars' heads with the words "Please Stop," while the front included the word "Violence" on the hem.
She performed "We Can't Stop" and "Wrecking Ball" at the EMAs in a skintight silver and white bodysuits.