Miley Cyrus Defends 'Kissing' Girl, Does It Again In Madrid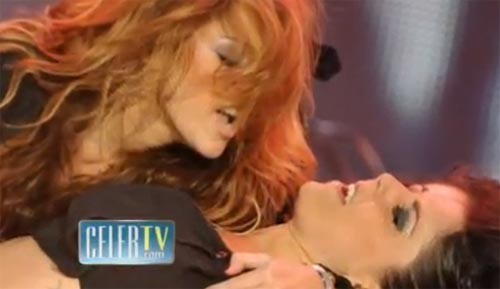 After her fake lesbian kiss on Britain's Got Talent, Miley Cyrus has been busy defending herself from critics and continuing her tour - where she is repeating the "offense."
Indeed, it appears the "kiss" is a part of the former Hannah Montana star's dance routine during live performances of I Can't Be Tamed. She grabs a female dancer and nearly sweeps her off her feet before dipping down to give her a few pretend smooches.
She defended herself over the weekend with a post to her blog:
"I promise you I did not kiss her and it is ridiculous that two entertainers can't even rock out with each other without the media making it some type of story. I really hope my fans are not disappointed in me because the truth is I did nothing wrong. I got up there and did my job which is to perform to the best of my ability. I just want to put an end to this right now and just say one thing to everyone out there making this performance such a big deal.

"GET OVER IT! NOTHING HAPPENED. THERE ARE WAYYYYYYY MORE IMPORTANT THINGS IN THE WORLD."