Miley Cyrus Dances & Sings With Little People On German TV Show - Watch It!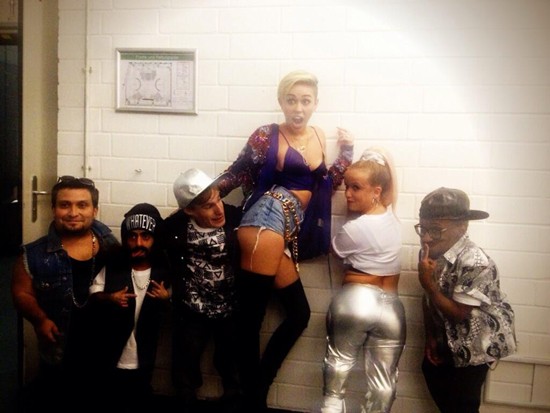 Miley Cyrus is making headlines again - this time for a weekend performance on a German TV show. The pop star sang her hit song "We Can't Stop" with a band made up of little people.
On Saturday, Sept. 7, Cyrus made an appearance on "Schlag den Raab" wearing daisy dukes with thigh-high boots and a black bra underneath a short jacket.
The 20-year-old sang and danced while a five-member band made up of little people rocked out in the background. At one point, Cyrus playfully slapped the butt of a tiny blonde dancer her joined her on stage.
The singer posted a photo of her tiny band on twitter with the caption: "MC & The Boos."
Two weeks ago, Cyrus made headlines for a racy performance at the MTV Video Music Awards (VMAs). She sang "Blurred Lines" with Robin Thicke and rubbed herself provocatively against the singer while also making obscene gestures with a foam finger.
Watch her German performance below: