Miley Cyrus Cracks Her Coccyx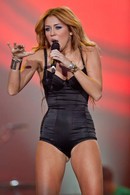 Accident-prone singer/actress Miley Cyrus is recovering after injuring a bone in her back while attempting to do a front flip.

The former child star was practicing her gymnastic moves at home when she landed awkwardly and cracked her coccyx.

It is not the first time the hapless star has hurt herself around the house - she previously slipped on a pillow and broke her arm.

In a post on Twitter.com, she writes, "Cracked my tailbone doing a front flip... onto the couch. Thats (sic) like when I tripped over a pillow and broke my arm. Only me."