Miley Cyrus Continues Her Risqué Makeover With 'Wrecking Ball'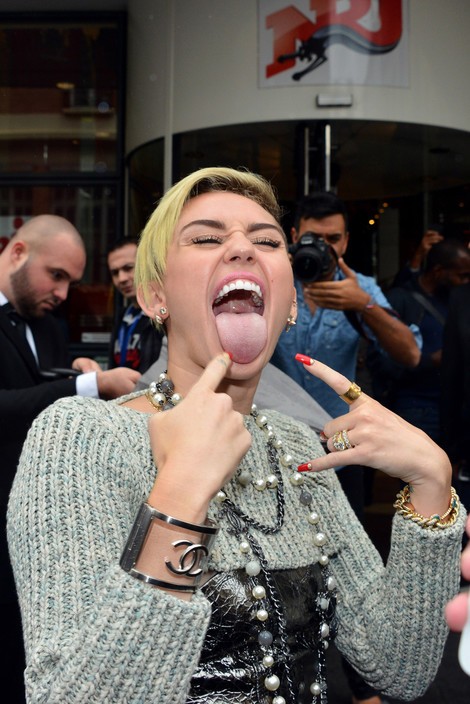 First and foremost, let me clearly state that I, Brent Faulkner, was never a fan of the 'old' Miley Cyrus.  I have been incredibly annoyed by the former teen star more times than not and that's real talk. #Trill to the fullest.  "The Climb" drove me up the wall with that singing about that mountain ("There's always gonna be another mountain / I'm always gonna wanna make it move… ain't about what's waitin' on the other side / it's the climb"), regardless if the intent was one of inspiration. "Can't Be Tamed" was nothing short of eye-roll worthy either, particularly with lyrics like "Every guy, everywhere / just gives me made attention / like I'm under inspection / I always get a ten / 'cause I'm built like that".  PLEASE! I'm sure some had their eyes on others as well. Then you had the incredibly catchy "Party in the U.S.A." where she earned her hip-hop credibility ("And the Jay Z song was on / and the Jay Z song was on / and the Jay Z song was on…")… YEAH. 
Now as unbearable as that Miley was, what we have now is nothing short of a hot mess – NO QUESTIONS ASKED!
Miley Cyrus lately has become the princess of shock value.  Previously, it was things like that awful hair cut, in which brash underground rapper Tyler, The Creator took a jab ("…She was like 'Hey I wanna do something different…f*ck me up real quick'. Hahahaha").  Oh and she did get him back BTW, but I honestly think he could care less.  But lately, since Miley has redefined herself, she's became the queen of provocativeness.  Honestly, the things that Miley did to a foam finger (and Robin Thicke!) at MTV's always edgy VMAs is nothing short of disgusting. I didn't even watch the original telecast, but after all the sensationalization about foam fingers, bears, twerking, and Beetlejuice, well I had to see what ole girl done. I just pray that little kids aren't permanently scarred or haunted by Cyrus's corruption of Teddy Bears.  I would've been, like really. And that tongue thing…EWWWWWWW!
It is apparent that Cyrus enjoys her body and the liberation of her twenties.  Unfortunately, most of us can't say the same thing as Cyrus really needs to stop stripping, like really. I mean, yeah if you got the bod and you're young you like to show off, but usually there is a healthy limit… Cyrus has clearly exceeded that.  "Wrecking Ball" the music video serves as Miley's newest way to express her inner badness and rebelliousness you might say.  The song, her current single off from her upcoming swag'd up album Bangerz and the follow-up to "We Can't Stop" is pretty normal.  It's a pop song with gargantuan drums and humongous pop chorus (see Katy Perry, P!nk, or Kelly Clarkson ten times over).  The problem is that video.  Miley gives the sledgehammer she holds some definitely inappropriate tongue action and swings nude from a wrecking ball.  I don't believe she points down south, but if she did, I tried to edit that out of my already outraged and disturbed mind. Miley, WTF is happening girlllll?
Here's what I get.  I understand how it feels to be young and spread your wings. I've never been a clean-cut teen pop star, but if you compare the experience with say being a sheltered teenager, there is always that urge to want to act out and show you aren't a lame-o.  The problem here though is that Miley Cyrus has taken the post-teen rebelliousness, not to mention certain cues of hip-hop culture way too far.  Honestly, who wants to see her twerking? Who cares whether she likes Jay Z or any other hip-hop artist? Why join the incredibly irresponsible molly train… didn't you get Kendrick Lamar's memo?  It all seems too forced from my perspective, but honestly, her PR staff needs to nip some of the risqué away.  I understand we don't need to have another "The Climb" (Lord knows) but do we really need to see Cyrus showing so much skin or making inappropriate motions that are incredibly awkward and embarrassing? That's definitely rhetorical.
As for "Wrecking Ball" the video… MC is doing a little too much for my tastes… Youtube has had some interesting reactions…