Miley Cyrus' 15th Tattoo Is A Quote From Theodore Roosevelt - See It And Some Of Her Others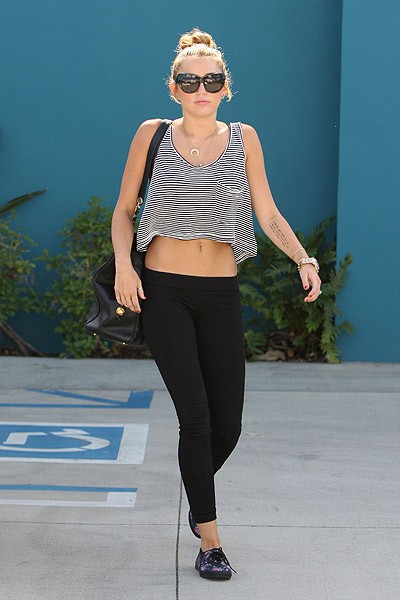 Miley Cyrus's tattoo count has officially gone up as the actress/singer has added some fresh ink to her left forearm.

The new body art contains an excerpt from a speech by President Theodore Roosevelt. It reads, "[S]o that his place shall never be with those cold and timid souls who knew neither victory nor defeat."

The passage comes from Roosevelt's April 23, 1910 "Citizenship in a Republic" speech at the Sorbonne in Paris, France.

The full quote reads, "It is not the critic who counts: not the man who points out how the strong man stumbles or where the doer of deeds could have done better. The credit belongs to the man who is actually in the arena, whose face is marred by dust and sweat and blood, who strives valiantly, who errs and comes up short again and again, because there is no effort without error or shortcoming, but who knows the great enthusiasms, the great devotions, who spends himself for a worthy cause; who, at the best, knows, in the end, the triumph of high achievement, and who, at the worst, if he fails, at least he fails while daring greatly, so that his place shall never be with those cold and timid souls who knew neither victory nor defeat."

The speech basically says that it's better to try and fail at something than not to try at all.

Miley now sports a total of 15 tattoos on her bod. Here's the rundown:

1. The first tattoo she had done is located just under her left breast and reads "Just Breathe." It's a tribute to a friend who died of cystic fibrosis in 2007 and to her grandfathers, both of whom died from lung cancer.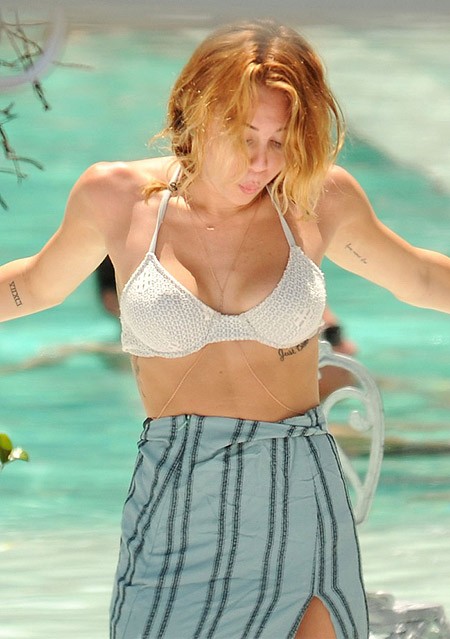 2. She has the word "LOVE" tattooed inside her right ear.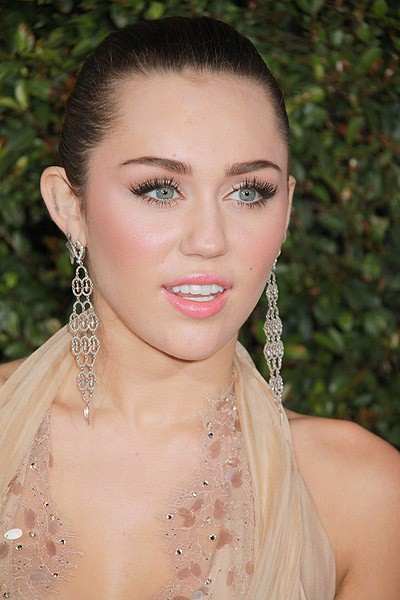 3. Heart on right pinky.
4. Crucifix inside right ring finger.
5. Peace sign on her right middle finger (it was a line first and she added to it)
6. A large dreamcatcher on her ribcage. ("It's a picture of the dream catcher that hangs over her bed with four feathers to represent her four brothers and sisters. The dream catcher is to protect them," a friend told People magazine after she had it done.)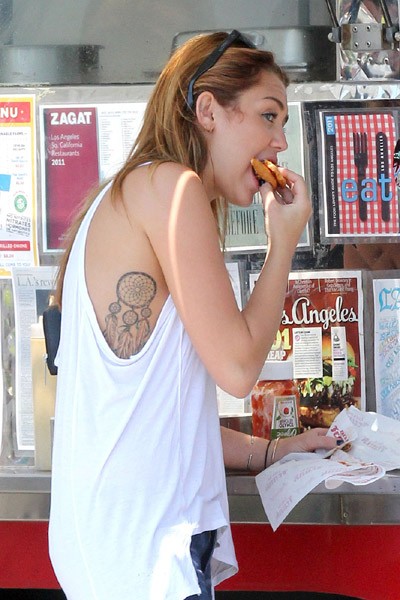 7. An anchor on her right wrist.
8. "Karma" on her right index finger.
9. An "=" sign on her right ring finger in support of gay marriage.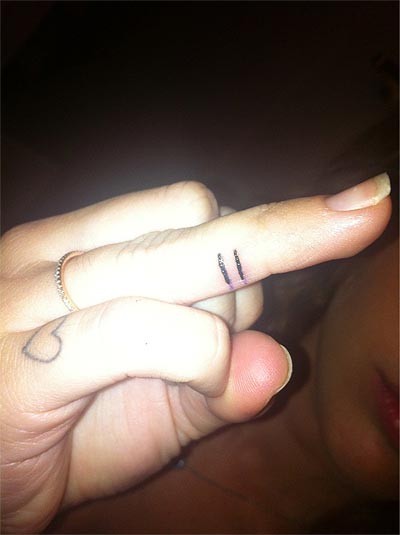 10. A (believed to be) Mexican sugar skull on the inner side of her right heel. Fiance Liam Hemsworth is reported to have a matching one.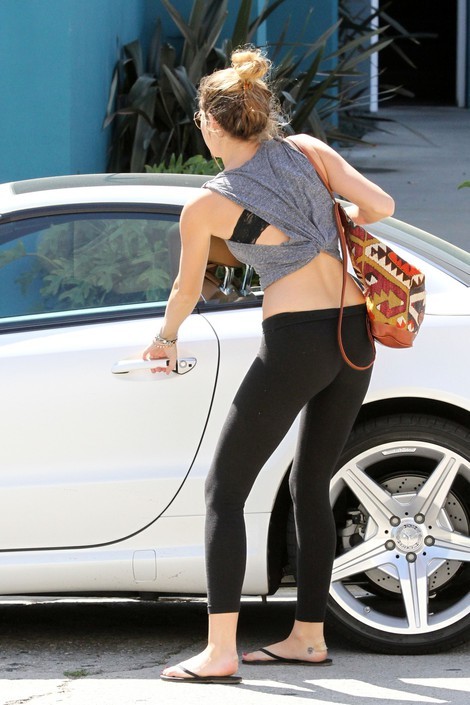 11. The Hindu 'Om' (ॐ) symbol on her left wrist.
12. "Love Never Dies" on the inside of her left arm
13. A Nazar symbol that wards off the 'Evil Eye' in Middle Eastern cultures. It's on her right index finger.
14. The roman numeral "VIIXCI" in the crook of her left elbow. She had this added in May and no one has a clue what the meaning is.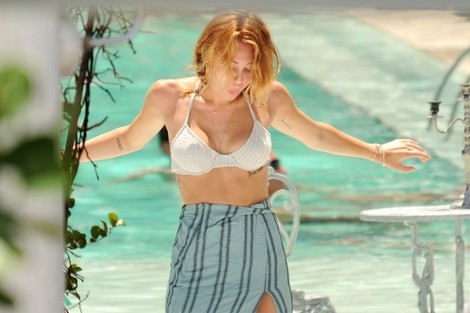 15. The Roosevelt quote.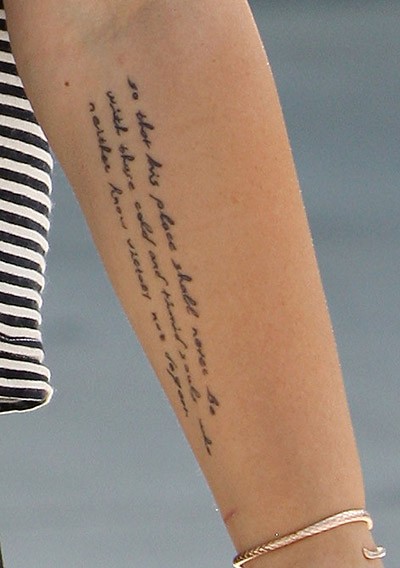 Roosevelt's quote also mentions that critics don't count - only the people doing the actual work, gaining knowledge and experience through both successes and failures as opposed to being someone standing on the sidelines and never knowing what it's like to try.

That part of his quote seems right in line with a recent post the 19-year-old star made to her twitter page about hating the paparazzi.

"I hate paparazzi with a passion. Disgusting pigs... No offense to pigs," she wrote.