Mila Kunis Opens Up About Pregnancy, Wants Natural Childbirth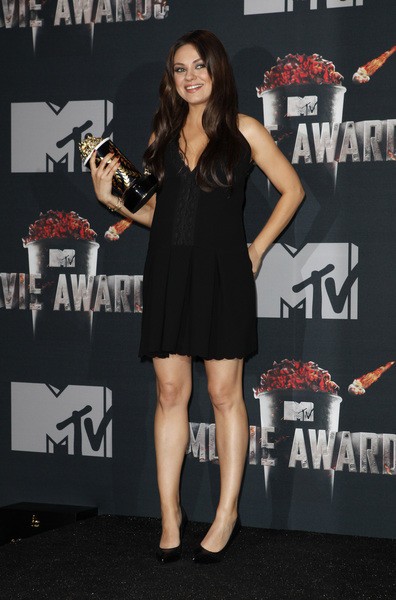 Mila Kunis opened up about being pregnant in a new interview with Ellen DeGeneres, telling the daytime TV host that she hopes to have a drug-free, natural birth.
The actress and fiance Ashton Kutcher are expecting their first child together and plan on welcoming the little one at home without the use of an epidural, which helps mothers numb the pain of childbirth.
Kunis explained: "We thought about a home birth, we watched a couple of documentaries and spoke to some midwifes and people, and realized our hospital have the midwives and doulas who can do that. I'm going to do it as natural as I can, No epidural, I'm crazy, right. But I wanted this! I did this to myself, I might as well do it right. Well, I did have a little help..."
Kutcher is getting involved with Kunis' pregnancy and has even filled up a second refrigerator with "goofy" food she may crave.
"He assumed that I was gonna have goofy cravings, so he stocked our secondary fridge with weird food," Kunis said. "Just like pickles, and sauerkraut, or like anchovies, and ice creams...just in case at one point during this pregnancy I'd be like I really want something. And it happened last week, I was like, 'Oh my God, I need a pickle.' It was just the weirdest thing. I needed this pickle and he was like, 'Hold on a second' and disappeared in the backyard and came back with the most amazing dill pickle of all time."
The "Two And A Half Men" star is also taking Russian lessons so he can speak Kunis' native language to their newborn. The actress was born in Ukraine.
Kunis, 30, says the couple have been engaged longer than the public realizes.  She said: "We were able to keep this private for two months without anybody knowing, I think everybody assumed we were engaged for so long that I was wearing the ring in public for two months and nobody commented on single photograph."