Mila Kunis Is Topless On Cover Of Esquire's 'Sexiest Woman Alive' Issue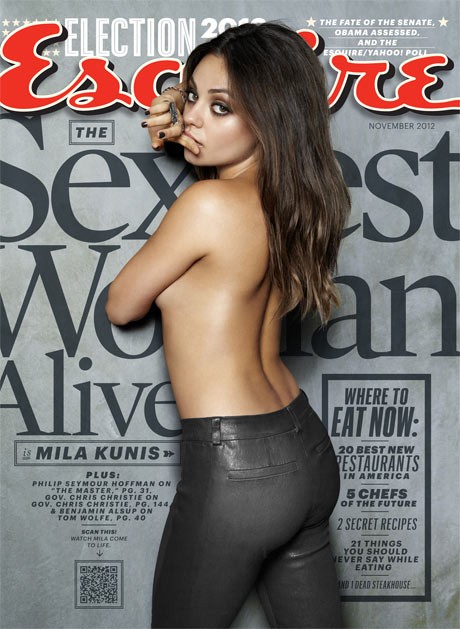 Esquire has determined that the Sexiest Woman Alive is former "That 70s Show" star Mila Kunis. The actress, who was born in Ukraine, started her career at age nine and has appeared in films such as "Forgetting Sarah Marshall," "Black Swan," "Friends With Benefits" and "Ted." Kunis also voices Meg in FOX animated series "Family Guy."
Kunis takes the "sexiest" crown from last year's winner, Rihanna. Other stars who have held the title include  Minka Kelly, Kate Bekinsale, Halle Berry, and Jessica Biel.
In an interview with the magazine, Kunis opened up about her thoughts on the upcoming U.S. election. She commented, "The way that Republicans attack women is so offensive to me.  And the way they talk about religion is offensive.  I may not be a practicing Jew, but why we gotta talk about Jesus all the time?"
The actress is currently in a relationship with her former "70s Show" co-star Ashton Kutcher. The couple kept their relationship under wraps for several months following the actor's split with his wife Demi Moore.
Kunis stars in the upcoming film "Oz: The Great and Powerful," about a mischievous magician who gains the wisdom to become a powerful ruler after being swept away to a land of magic and mystery. She plays a witch named Theodora.