Mila Kunis: 'I Don't Get Asked Out'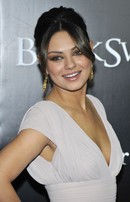 Actress Mila Kunis hasn't been on a real date in a year as she has been so busy.

The Black Swan star has been single since splitting from her long-term boyfriend, former child star Macaulay Culkin, in 2010, and Kunis has now revealed she rarely gets asked out by guys.

She tells Harper's Bazaar magazine, "It's hard to open up to people because often, they're more curious than they actually care about you... I don't get asked out."
"This past year, I haven't been home, so who's going to ask me?"