Mila Kunis Has A 'Special Message' For Dads-To-Be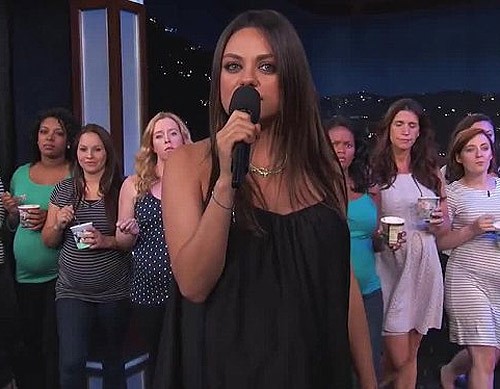 Justin in time for Father's Day, Mila Kunis made a visit to Jimmy Kimmel Live on Tuesday night to promote her film "Third Person," and the very pregnant actress had a few words of wisdom for dads-to-be.

Kimmel attempted to swap baby stories with the former "That 70s Show" star, but she wasn't having any of it.

"My wife and I are pregnant," Kimmel explained to Kunis. "We are having a baby very soon as well (Kunis is expecting her first with fiance Ashton Kutcher)"

"Oh, you both are having a baby?" she asked. "You and your wife are pregnant?"

The actress then unclipped her microphone and picked up a different mic and walked to the camera, addressing the audience with "a very special message" for all the soon-to-be-dads.

She then brought up a lot of things that justify why guys should never say "we're pregnant."

"We can't have anything because we've got your little love goblin growing inside of us," she rants.

Check it out below...