Mila Kunis' Dad Banned From Watching 'Black Swan' Sex Scene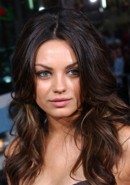 Mila Kunis ordered her father to leave a screening of new thriller Black Swan so he would miss her explicit lesbian sex scene with Natalie Portman.

The 27 year old plays a ballet dancer named Lily in the upcoming Darren Aronofsky movie, which sees the actress engage in a raunchy love scene with co-star Portman.

Kunis' dad admitted he was uncomfortable with the risqué plot, so she advised him to leave the room when the sequence was shown.

She tells MTV.com, "He was like, 'I don't think I should see the movie.' I was like, 'See the movie. There's going to be a point; get up and leave.' I don't think any dad should see (sex scenes). It's just not necessary."

Click Here For More Black Swan Pictures