Mila Kunis And Justin Timberlake Get Steamy In 'Friends With Benefits' (Video)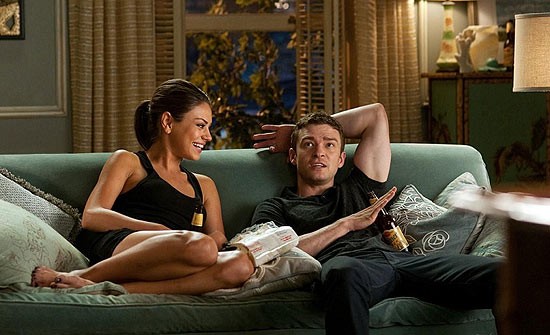 The first "Friends With Benefits" trailer came out around the time that "Black Swan" was released, both featuring Mila Kunis, giving moviegoers a glimpse of what to expect next from the Oscar nominated actress. The title pretty much explains everything. Enter Mila Kunis, Friend A. Enter Justin Timberlake, Friend B. Together, they have benefits – and I'm not talking about health insurance.
But alas, the plot thickens. Another trailer was released recently giving movie fans a better glimpse of what's to come. Mila Kunis and Justin Timberlake are friends who have both just been conveniently dumped. Swearing off romance, they both agree on a no-emotions sexual relationship – a.ka. Friends with Benefits. But of course, as the relationship progresses, things begin to get a little complicated as they find it difficult to keep their emotional lives separate from their physical ones. Are they going to call it quits before it gets messy or is this the "one" they're going to give a shot? I think I already know the answer, but I won't ruin it for those of you out there that really can't figure it out.
Though this screenplay seems to be popular in Hollywood, credit must be given to all the writers who manage to tweak some small detail to shake things up a bit. The trailer even has a couple of good laughs to it, and on behalf of Andy Samberg, Emma Stone, Woody Harrelson, and Patricia Clarkson too. But does anyone else find it strangely amusing that this is basically the same exact movie that Kunis's "Black Swan" costar, Natalie Portman, starred in with Ashton Kutcher a couple months ago in "No Strings Attached"? I guess the two like to share more than we thought.
Friends With Benefits is set to hit theaters July 22.
Friends With Benefits Movie Pictures