Mike Tyson Warns Dubai Fans About Bogus Appearance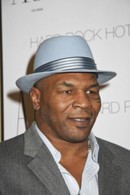 Former boxing champion Mike Tyson has apologized to fans in the Middle East following bogus reports which suggested he is set to appear at a fight in Dubai.

Local advertisements stated The Hangover star would be in the United Arab Emirates next month for a boxing match, but Tyson insists he has no immediate plans to visit.

The sports star has warned fans not to fall for the fake promotion, and apologized for the confusion.

In a post on his Twitter.com page, Tyson writes, "There is a rumor about me being in Dubai on Jan 21st to do an appearance (at) a fight match. This is not true. I will not be there.

"Sorry to all my Dubai fans. Unfortunately, a bogus promoter pretending to represent me made an unlawful deal."