Mike 'The Situation' Sorrentino Receiving Treatment For A 'Prescription Medication Problem'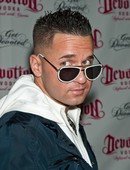 Reality TV star Mike 'The Situation' Sorrentino has been receiving treatment to help him overcome a "prescription medication problem."

The Jersey Shore star checked into rehab earlier this month and a representative insisted he was seeking "much-needed rest and recuperation."

Sorrentino has now revealed he has been battling issues with prescription pills, which he has been taking to combat exhaustion.
 
A statement posted on his website reads, "I want to set the record straight. I have voluntarily taken steps to get control of a prescription medication problem I had due to exhaustion.

"I have spent the past several weeks getting treatment for this problem and recuperating from my work and appearance schedule. I appreciate my fans' support and (I) love you guys."