Mike Nelson Previews RiffTrax's Hilarious Take On 'Starship Troopers'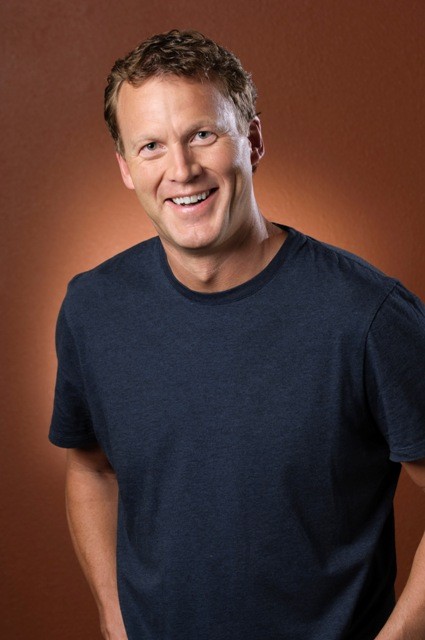 Are you ready to laugh at another bad movie? After RiffTrax brought back two old classics last year, this Thursday the trio who turn horrible flicks into great nights out are back, and setting their sights on Starship Troopers in a one-night-only engagement. BFTV called up RiffTrax's Mike Nelson last week to ask what we can expect from the Troopers riff, and why he enjoys working with fellow riffers Bill Corbett and Kevin Murphy.
"There's many variations of a bad movie," explained Mike, who, along with Bill and Kevin. came to pop-culture prominence with the TV series Mystery Science Theater 3000 (Mike was the protagonist of the show from 1993 to 1999). What's kept him riffing for more than 20 years? "I really enjoy crouching down in my basement writing funny little things. The live shows really give me a chance to come out of my basement," Mike quipped. "I just enjoy the craft of it."
His partners in crime have worked with him for years as writers and performers; Kevin was the voice behind Tom Servo for nine MST3K seasons, and Bill took over the character of Crow T. Robot when the show moved to the Sci-Fi Channel. We asked Mike to weigh in on his co-stars, and tell us why they've been able to riff together for so long. "Obviously, they're funny guys," he said, "and we just are sort of like the band that can just come together and jam all the time. We generally don't get on each other's nerves all that much. We can survive in a hotel room [together]. And also our voices, I think, kind of blend in a way that works out."
Starship Troopers is the Rifftrax crew's Plan B; they had initially hoped to secure the first film in the Twilight series for Thursday's live show, but although they raised more than enough money via a Kickstarter campaign, they weren't able to snag the rights from Summit Entertainment. So, then, what made the Casper Van Dien-led flick the appropriate second choice? "Defenders of it will say that there's elements of satire, but I think it's a big, dumb movie," Mike told us. "I think it works perfectly for us because there's a lot of chunky dialogue, and of course the bugs, and just a big glossy movie is something we've never been able to do."
"For the live show, the fun part of that is you can imagine the live audience in your head," he continued, "and so we craft a different kind of script for it, which is a lot looser. The success for me - and I think for all three of us - is if the interaction with the crowd is satisfying. Is everyone having a good time in the theaters? It's never failed to be a fun time. That's the part that I love."
Mike also let us know that after Thursday's broadcast, the RiffTrax gang have plans for more live mayhem this fall. "For our next movie we are going to do a Halloween show. We're going to be doing Night of the Living Dead," he revealed. "And we've got some others that we're working on."
This kind of well-deserved cult popularity is a long way to have come for three guys just sharing a few laughs about bad movies. Through the success of Mystery Science Theater all those years ago, and the fandom that it created, watching bad movies has taken on a whole new life for not just Mike, Bill and Kevin, but ordinary folks sitting at home on their couches, too. What's it like for Mike to know they helped to start something that's still enjoyed decades later?
"It's fun," he said. "Doing MST3K, we felt like we were just alone in a suburb of Minneapolis doing something that made us laugh. Watching it grow and grow - that was the most fun ride and really my entire career has been pretty much that fun ride." Here's to hoping we get to join him on that ride for years to come. After all, there will always be bad movies in need of riffing, and Mike, Bill and Kevin are just the guys we want to do the job.
RiffTrax Live: Starship Troopers will be simulcast to theaters around the country this Thursday. For more details, and to get your tickets now, click the infographic below. You can also visit RiffTrax's website (rifftrax.com) and follow Mike on Twitter (@MichaelJNelson).
(c)2013 Brittany Frederick. Appears at Starpulse with permission. All rights reserved. No reproduction permitted. Visit my official website and follow me on Twitter at @tvbrittanyf.