Mike Myers Makes Surprise Appearance At London Comedy Club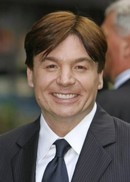 Mike Myers thrilled fans in London on Sunday by making a surprise appearance at the comedy club where he started his career.

The Austin Powers star's gig at the Comedy Store was announced just hours before he took to the stage with the venue's Comedy Store Players improvisation troupe, which he helped found in 1985 with his pal Neil Mullarkey.

Pictures of the gig subsequently emerged on Twitter.com and a message posted on the venue's page reads, "Oh yes Mike Myers joined the Players for the show (at) Comedy Store UK tonight. Was a great night," while fellow Player Phelim McDermott added, "Fantastic fun playing with Mike Myers tonight at the Store!"