Mike Judge's 'The Animation Show: Volume 3' Comes To DVD; Win A Copy!

Mike Judge
(
Beavis & Butt-Head
,
King of the Hill
,
Office Space
) and Don Hertzfeldt return with another collection of incredible animated short films in
The Animation Show: Volume 3
from MTV Home Entertainment and Paramount Home Entertainment. This DVD brings together the best work from
The Animation Show
's 2007 theatrical program, as well as additional groundbreaking shorts. The collection compiles some of the latest work from today's leading independent animators including Mike Judge, Don Hertzfeldt, Bill Plympton, Joanna Quinn and PES, showcasing an enormous array of great animation rarely seen in the United States.
The Animation Show
DVD series will continue to bring more artists and unseen classics into the spotlight.
In addition, Mike Judge recently launched the all-new 2008 theatrical tour of
The Animation Show
in June of 2008. After personally handpicking over two dozen of his favorite animated shorts from around the world, Judge has assembled an incomparable collection of work from some of the great animators of today, as well as some up-and-comers. Top-notch animators such as PES, Smith & Foulkes, Dave Carter and Joel Trussell were commissioned to create some truly amazing new work expressly for this tour, while emerging comic talent Steve Dildarian ("The Life and Times of Tim") will premiere his work theatrically for the first time. In addition, some of the greatest work from abroad will see U.S. audiences for the first time. The 2008 tour promises to be every bit as groundbreaking for adult animation fans as the 2007 collection. For more information on the theatrical tour and local dates, please visit
www.animationshow.com
.
'Game Over' (Clip from Vol. 3):
The Animation Show: Volume 3 DVD Shorts:
-
Beavis and Butt-Head Introduction
by Mike Judge
-
Rabbit
by Run Wrake
-
City Paradise
by Gaelle Denis
-
Everything Will Be OK
by Don Hertzfeldt
-
Collision
by Max Hattler
-
Astronauts
by Matthew Walker
-
Carlitopolis
by Nieto
-
No Room For Gerold
by Daniel Nocke
-
Guide Dog
by Bill Plympton
-
One D
by Mike Grimshaw
-
Tyger
by Guilherme Marcondes
-
Versus
by Francois Caffiaux, Noel Romain and Thomas Salas
-
Learn Self Defense
by Chris Harding
-
Abigail
by Tony Comely
-
Shuteye Hotel
by Bill Plympton
-
Dreams and Desires
by Joanna Quinn
-
Game Over
by Pes
DVD Special Features:
-Gaelle Denis interview
-Max Hattler interview
-"Abigail" Animatic
-Joanna Quinn interview
-11 full-length text interviews with the artists
-Introduction to MTV's?The Maxx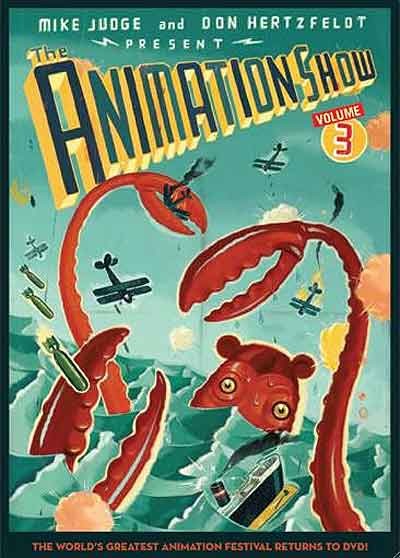 The Animation Show: Volume 4 Theatrical Shorts (In Theaters Now!):
-
Welcome Aboard
by Joel Trussell
-
Burning Safari
by Vincent Aupetit, Maxime Maleo, Aurelien Predal, Florent de La Taille, Claude-William Trebutien, and Jeanne Irzenski
-
Operator
by Matthew Walker
-
Usavich Episodes
by Satoshi Tomioka
-
Psychotown
by Dave Carter
-
Mr. Schwartz, Mr. Hazen & Mr. Horlocker
by Stephan Mueller
-
Love Sport: Paintballing
by Grant Orchard (animated by Phil Warner and Gideon Regal)
-
Yompi
by Corky Quakenbush
-
Angry Unpaid Hooker
by Steve Dildarian
-
Blind Spot
by Johanna Bessiere, Cecile Dubois Herry, Simon Rouby, Nicolas Chauvelot, Olivier Clert, and Yvon Jardel
-
Forgetfulness
by Julian Grey (written by Billy Collins)
-
Far West
by Nieto
-
Voodoo
by Romain Baudy, Ludovic Bouancheau, Liane Cho Han, Yann Le Gall, Marietta Ren, and Sebastian Wojda
-
John and Karen
by Matthew Walker
-
Cocotte Minute
by Thibault Berard, Sylvain Marc, Loic Miermont, Amandine Pecharman, Nathalie Robert, and Romain Vacher
-
JEU
by Georges Schwizgebel
-
Let's Talk
by Dave Carter
-
Le Grand Content
by Clemens Kogler, and Karo Szmit
-
Key Lime Pie
by Trevor Jimenez
-
Hot Dog
by Bill Plympton
-
Raymond
by BIF- Fabrice Le Nezet, Francois Roisin, and Jules Janaud
-
Western Spaghetti
by PES
-
This Way Up
by Smith and Foulkes
-
Win Volumes 1-3 of "The Animation Show"
-
Click here for a list of "The Animation Show" Tour Dates
VIDEOS:
Animation Show Year 3 Trailer: