Mike Epps Handed Legal Papers Onstage; Flips Out On Process Server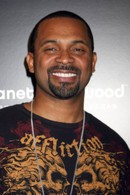 Comedian Mike Epps is facing legal action stemming from a fight last year - he was served legal papers while performing onstage last week.

The Hangover star clashed with cameraman Douglas Thornton during his wife's birthday bash at the Key Club in Detroit, Michigan on November 27 and security officers were forced to intervene when a brawl broke out.

Thornton subsequently filed a $1 million lawsuit against the actor earlier this year, claiming he was subjected to a "brutal beating" at the hands of Epps.

The actor was handed the legal documents during a comedy performance in Texas last week and Epps, angered by the interruption, shot back at the process server with an expletive rant.

Captured on tape obtained by TMZ.com, Epps said, "White b---- just threw some papers up on the mother f---ing stage ... b----, f--- you. B----. I don't give a f--- ... s--- my d---."

The actor, who continued on with his set, later admitted to taking part in the alleged physical altercation.

He added, "This is from when I whooped that n-----'s a-- in Detroit."