Mike C. Manning On 'Cloud 9' With Disney Film And New Documentary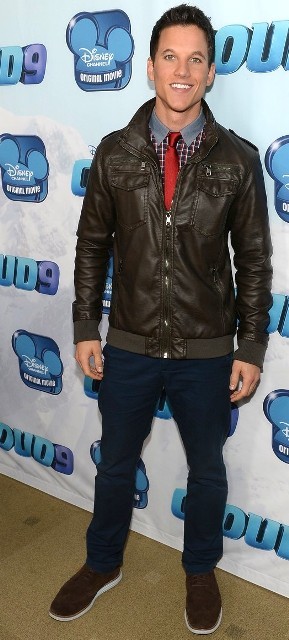 2014 is starting off well for actor-producer Mike C. Manning. In front of the camera, he's one of the stars of the new Disney Channel original movie Cloud 9, and behind it, he's executive producing a thought-provoking documentary called Kidnapped For Christ. BFTV caught up with Mike last week to discuss both projects, and what each of them means to him.
In Cloud 9, Mike plays Nick Swift, captain of the Swift Snowboarding team and boyfriend of Kayla Morgan (Dove Cameron), a role which is new territory for him. "This is the first time I've ever played a bad guy. My note most of the time was 'Mike, you need to be meaner,'" he laughed. "Throughout the course of the movie, I kick [Kayla] off our team, and break up with her, and I do some not so nice things, because I think it's going to help me win the championship at the end of the season. If I could say one thing to people watching it, I think the first half of the movie they're not going to like me very much, but I kind of redeem myself by the end."
While playing the antagonist was something different, the athletic portion of the movie was more familiar. "I've always been into extreme sports and anything on a board. Surfing, snowboarding, wakeboarding, I grew up doing all of these things. The snowboarding was actually the easiest part for me," Mike continued, telling us that Disney put the cast through training camp with members of the U.S. Olympic snowboarding team. "My trainer, I'm kind of convinced that he's a robot," he quipped. "He's amazing, and he made me look really, really good."
You can catch Mike doing some of his own snowboarding in Cloud 9, and look below to see a behind-the-scenes video featuring him and the rest of the cast.
After Cloud 9, you'll be able to see Mike as the lead in the horror flick Case Number 13. "It was the first time I had a film on my shoulders as the protagonist," he said. "The film itself is sort of Stand By Me meets Amityville Horror. Working with director Johnny Martin was amazing. The film has more of an ensemble cast, and he really let the main five guys make the story our own. It sets a new bar for the horror film genre." That movie will debut later this year.
As you might know from our last interview with Mike, he's just as dedicated behind the camera as he is in front of it. He's also continuing to build his resume as a producer. "I caught the bug after having as much fun as I did producing Black Hearts, working with sisters Rachel and Malani Coomes. It won Best Comedy at the Laughlin International Film Festival in October, and is slated for a handful of other festivals in 2014," he told us.
His passion project is the documentary Kidnapped For Christ, which premieres tonight at Slamdance. "The documentary's basically about teenagers that are sent to reform camps all across the world, including the U.S. It follows American students that were sent to a camp in the Dominican Republic for a variety of reasons," Mike explained.
"One of the students was actually someone that I had met in Colorado in college. I always knew about the story, but he never really got into it, and then I think it was about two years ago he traveled to Los Angeles to do a follow-up interview with the director [Kate Logan] about his time at the camp. I started talking to him about it and he told me the entire story. By the end of it, my jaw was dropped and I said 'I need to get involved with this. How can I help?'"
"The thing about this documentary, compared to other documentaries that I've seen, is that it tells a very truthful story and lets the audience decide on their own where they stand. It's very just raw and honest," he continued. "It has been a passion project for all involved. I'm an executive producer, and working with others like Tom DeSanto and Lance Bass over the past year has taught me a lot, along with Yada Zamora and Paul A. Levin from Red Thorn Productions, who've become great friends."
The sense of purpose and meaning that comes with producing the documentary is something that's important to Mike in his life as a whole. Whether it's in front of the camera, behind it, or even through his own personal work with a variety of causes, he told us, "I really want to get involved with things that are going to change the world for the better."
Cloud 9 airs tonight on Disney Channel; check your local listings for specific channel and airtime. Kidnapped For Christ premieres tonight at the Slamdance Film Festival; more information on the film can be found at kidnappedforchrist.com. For more on Mike, you can also follow him on Twitter (@MikeCManning) and visit his official website (mikecmanning.com).
(c)2013 Brittany Frederick. Appears at Starpulse with permission. All rights reserved. No reproduction permitted. Visit my official website and follow me on Twitter at @tvbrittanyf.