Miguel Nearly Breaks Woman's Neck With His Crotch At Billboard Awards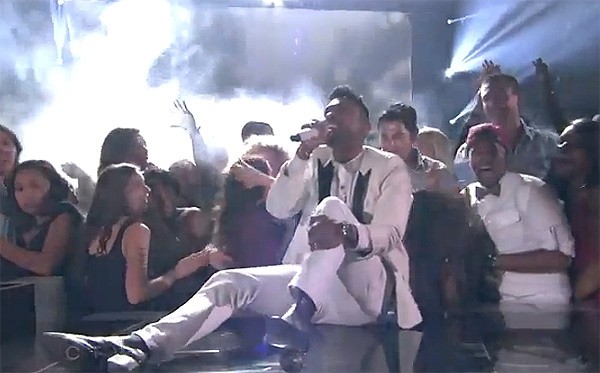 R&B singer Miguel somehow avoided seriously injuring at least one fan at Sunday night's Billboard Music Awards, when a leap of faith went awry.

While on stage performing his hit "Adorn," the singer attempted to jump over members of the crowd to another part of the stage, but botched the landing.

Miguel barely made it across the opening in the stage and ended up kicking one woman in the head and crushing another woman's face between his legs and the stage. Fortunately neither of the women were injured in what looked like one of them could have ended up with a broken neck.

The singer never stopped his song, and afterward he said he got "caught up in the moment."

Miguel met one of the women, who was spotted icing her arm backstage after the incident.

"Well, I think it's kind of clear what happened," Miguel told Billboard afterward. "But I'm very happy to bring my new friend, Khyati, we just met.

"Unfortunately we did not meet under the best circumstances, but I think we're OK. The crazy thing is, when you're performing and you're just kind of into it, you never know where it's gonna go and where you're gonna go with it, and how that might turn out. So this is one of the less favorable moments."

Miguel also tweeted about it when the night was over.

"Got caught up in the moment, thank goodness Khyati is okay," he wrote.

Watch the cringe-inducing video below -- the leap happens at about the 2:55 mark...