Midwest City Captures The Essence Of R&B On Their Debut Disc, "Authentic R&B"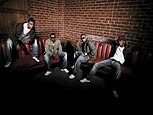 Every generation a group emerges whose talent shines so brightly, you feel it from the second they sing their first note... they're going to be BIG.
Midwest City
captures the essence of R&B on their debut disc,
Authentic R&B
. The new album is the perfect blend of up-tempo, funk-infused tracks, complementing soulful ballads laced with lush harmonies. Heavy hitters such as the Trackmasters (
Jennifer Lopez
,
Mary J. Blige
,
Mariah Carey
), Cool & Dre (
The Game
,
Fat Joe
,
Ja-Rule
), Poli Paul (
Black Eyed Peas
,
Nas
,
Christina Milian
), L.T. Hutton and Will Campbell lent their platinum production touch to the album.
Their first single, "One Love" produced by the duo Cool & Dre, is a heartfelt ballad that successfully challenges R&B's overproduced formula of sound-alike tracks and engineered voices. Taking it back to the old school days when vocalists really sang, Midwest City reaffirms love of family and the church with their soulful stirrings on their debut album, Authentic R&B.
Not another made-to-order-group, Midwest City is comprised of two sets of brothers who are also cousins – Antonio (Tone) and Solomon; Shay and Shamale. The group named themselves after their hometown, Midwest City, a suburb of Oklahoma City . The group has always kept it real as a family affair. Their mothers, sisters and best friends, shared the same household where music was prioritized as an integral aspect of their lives. Active participants in their local church choir since early childhood, and influenced by their gospel DJ stepfather, Midwest City members were weaned on the sounds of Commission, Pilgrim Jubilee, Mississippi Mass Choir, the
Delfonics
and many others.
Midwest City's sound is also influenced by past and present R&B greats including
Donny Hathaway
,
Marvin Gaye
,
R. Kelly
,
Jodeci
,
Stevie Wonder
and Oklahoma natives,
The Gap Band
. The influence of these great artists is showcased on Authentic R&B.
"R&B has gotten away from how it used to be when people were singing about love and could sing a song that could make you cry," says Solomon. "We want to bring it back to that."
The seeds of their dream were planted in 1998, with the four young men honing their writing skills and practicing their musical chops until 2001, when they headed west to California in pursuit of their platinum dreams. The quartet eventually moved to Sacramento, CA where they temporarily roomed with a brother in the Air Force, learning the hard-knock routine of trying to launch a professional music career.
"When we came out here, we were sleeping on floors and might eat once a day," remembers Shay. In between working on their music, they would do the occasional part-time job and pen material for other local artists.
Soon, word-of-mouth garnered them stage shows, the dream slowly becoming a reality when they found themselves opening for
Dave Hollister
,
Yolanda Adams
,
Tank
,
Mystikal
,
Avant
,
K-Ci and JoJo
and many others.
After many near-breaks and lessons learned, Midwest City caught the ear of the multi-media company, Spencow Entertainment and created a demo. "Finally, we were with somebody who said they had connections who really had connections," laughs Tone.
It worked because they caught the attention of Elektra Records, but the label underwent changes and the guys found themselves once again trying to secure a new label deal. With faith, hard work and persistence they were soon signed to Universal Motown in 2005, capping their inspiring journey to their much anticipated debut album.
"We got together because we love music, we really love music," says Shay. Their love of song-craft and musical chemistry is abundantly reflected on the 13-track disc, with the members writing all but three songs. Every track is indicative of Midwest City's diverse range, from the playful, up-tempo "Hey Ma," the smooth "Cause & Effect," to the alluring, retro-R&B anthem "Be A Man" Midwest City elevates the R&B game with their emotive, gospel tinged vocals and range.
"Shorty" is a feel good song", says Shamale. "It showcases the way we harmonize." According to the group, the one song that symbolizes their entire struggle to get to where they now is "Ghetto Superstar." "After listening to that song, our fans will understand what MidWest City went through and why we will never forget where we came from," states Solomon.
"Our album is about what we go through in our every day lives. We want people to leave knowing what Midwest City is," says Tone. Struggle and respect is at the core of every song, with the group promising their fans that no matter where their journey takes them, they'll always hold onto their small town values. After years of hard work, determination and faith, Midwest City stands poised to grab their rightful place on the R&B stage and reign supreme.
Listen to "One Love":
Windows Media
|
Real Audio