Midriff Baring Babes: Lady Gaga, Lily Collins & Kristin Cavallari Show Off Their Toned Tummies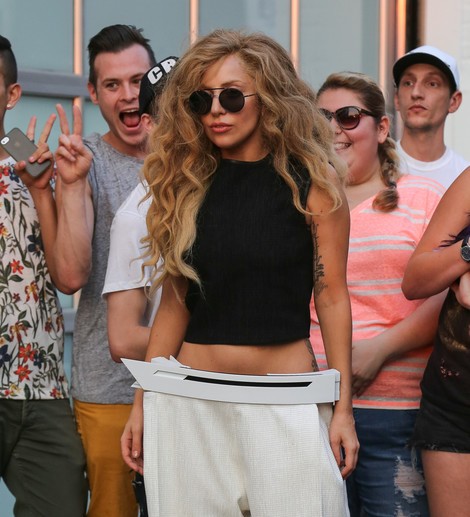 Summer means showing off some skin, and that's exactly what celebrities are doing these days.
We spotted Lady Gaga baring her midriff in a black crop top and baggy white pants as she headed out of a photo studio in New York City on Tuesday.
The singer has been busy promoting her new single "Applause" and upcoming album ARTPOP. She's actually covered up quite a bit in these shots, considering she recently posed naked in V magazine and took off all her clothes for a performance art video.
British actress Lily Collins has also embraced the midriff baring trend. She attended "The Mortal Instruments: City of Bones" Germany premiere in a sexy two-piece ensemble that showed off her midsection.
Reality star Kristin Cavallari shared the monochromatic style of Gaga and Collins at the MAGIC Fashion and Apparel Trade Show in Las Vegas on Tuesday by wearing a sexy white blouse and skirt that revealed her toned tummy underneath.
Check out more photos of these midriff baring babes...