Midnight Red Q&A : Summer, New Music & RedOne
Up-and-coming boy-band Midnight Red is giving One Direction a run for their money. The all-American boy group is comprised of five talented hotties – Colton Rudloff, Anthony Ladao, Thomas Augusto, Eric Secharia and Joey Diggs Jr. The fivesome has already captured the hearts of their fans and they have been labeled as America's answer to One Direction.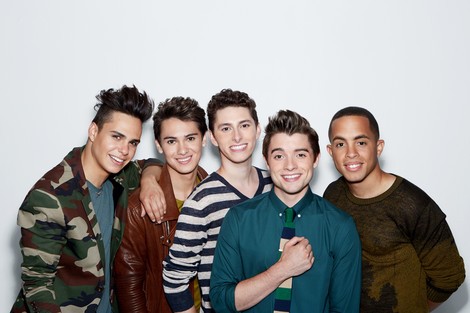 Formed in 2009, the boy-band has been performing shows nationwide and they even recently traveled up to Canada for the Canadian leg of the sold-out POP Explosion tour! Taking the nation by storm with their latest single "Take Me Home" which was featured on the Coca-Cola/iHeartRadio commercial, the band has performed sold-out shows all around the U.S. and Canada. With their hot debut album in the works, the band is set for a success parallel to that of One Direction or perhaps even greater than that. "Take Me Home" is a pop magnum opus that only pure talent can produce. Don't take my word for it though – just ask their 340,000 Twitter followers and millions of Youtube viewers!
Midnight Red is currently signed to Capitol Music Group and 2101 Records, which is owned by renowned Grammy-winning producer/songwriter RedOne, who has produced for the likes of Lady Gaga and Jennifer Lopez. With RedOne on their team amplifying their talent, Midnight Red is definitely going places with their career!
In between sold-out shows and opening for big names like the Backstreet Boys, Midnight Red took some time off from their busy work schedule to talk to me about the phenomenon that is Midnight Red.
Your latest single "Take Me Home" was released on iTunes not too long ago much to critical acclaim, along with one of the coolest lyric videos we've ever seen. Any plans for a music video?
Thank you! Yes! We just shot it a couple weeks ago, [we're] very excited to release it. [It] should be coming out soon!
We've also heard "Take Me Home" on the Coca-Cola/iHeartRadio commercial. Has that helped with expanding your fan-base?
Absolutely! When we released official audio of the song on YouTube, a lot of the comments said that the Coke/ iHeart commercial had brought them there!
Who came up with the fan name "RedHeads"?
The Redheads did! It was coined by the fans.
It must be pretty amazing working with RedOne. Do you guys hang out together outside of the studio?
Last time we were in the studio, he was like, "Hey let's get out of here and get some dinner!" And he took us out to Nobu for my birthday. It was so cool, RedOne is just such a great guy. We are so fortunate to have him, even when we are working, it feels like fun.
It's an undeniable fact that your fan-base is primarily dominated by teenage girls. We have a couple of dating questions:
Firstly, what's your favorite hairstyle & hair color on a girl?
That's hard! I've seen beautiful girls with all kinds of hair styles/colors! Obviously red heads!
What's your ideal summer date?
Picnic under a tree and swimming under the stars at night.
Speaking of summer, you've been touring on the PopExplosion tour all summer. Which was your favorite show you've played so far?
Every city has something really great about it, but Montreal stands out in my mind! The fans made it very special for us over there!
To date, most, if not all of your singles have been upbeat pop songs. Can we expect any slower ballad-like songs from your upcoming studio album?
Absolutely! We can't wait to show all sides of Midnight Red.
Who's your favorite person on Twitter?
@itsmidnightred!
---
If you have some questions of your own for the band, don't hold them in! Midnight Red will be doing an 'Ask Us Anything' Question and Answer session on Starpulse.com's Facebook page on Tuesday, Aug. 13 at 1pm PDT (4pm EDT) and we would love for you to join. Come with your best questions to ask one of the hottest upcoming bands in the US!
Stay connected with Midnight Red on Facebook, Twitter, Youtube and also be sure to check out their official website!