Midget Mac Is Eliminated On 'I Love Money'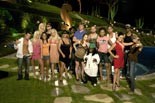 "I looooooove money!" crowed The Entertainer after jumping out of a tank filled with floating pesos, but there is very little doubt in the audience of "I Love Money" what it is the contestants love the most - fame, even the ridiculous spectacle version of it, and money.
The players of "I Love Money" are all former characters, er, contestants from VH1 shows such as "
Flavor of Love 1 & 2
," "
I Love New York 1 & 2
," and "
Rock of Love 1 & 2
." None of these 17 people found the love of their lives and were mostly rejected on live television, but they are back to compete for over $250,000 in a variety of tasks both dangerous and disgusting. Get ready for insanity VH1-style, because their newest reality show has begun!
There are people from each of the shows represented, and here they are in no particular order. From "Flavor of Love" there is the winner Hoopz, who broke Flavor's heart, and Pumpkin, who famously spit on New York. From "Flavor of Love 2" we have alleged porn star Toastee and the girl who turned her in, Nibblz. From "Rock of Love" is runner-up Heather, another porn actress Brandi C, and sweet tempered MILF Rodeo. From "Rock of Love 2" is Destiney and Playboy model Megan who both made it far in the competition. Then there are the boys who tried to steal New York's heart. From "I Love New York" there is handsome 12 Pack and his friend Heat, the increasingly strange Mr. Boston and the triangle of Whiteboy, Chance, and Real. Proclaimed loser The Entertainer and Midget Mac are the final members, and they come from "I Love New York 2."
The Money-Grabbers all arrive in Mexico to a beautiful mansion where they will be living during the show. They each get a check for $250,000, and when they are eliminated, the check will be voided. Everyone immediately runs to stake out the bedrooms and form new/old alliances. Chance, Real and Whiteboy get their own room and already are plotting how to work together against the others. 12 Pack, Heat, Destiney and Heather bond together in their room, and there are quite a few sparks flying between all of them. People better knock before entering that room down the road! The only one without a bed is Mr. Boston because Megan and Brandi find him so creepy that they hide the third mattress in their room so he can't sleep with them. No one really blames them.
The gang are asked what they will do with the money (breast implants, new cars, and raising awareness for mentally slow dogs) and the first competition is announced: everyone will have to get into flimsy bikinis and snatch money out of the air in a glass tank. Some of the men balk at wearing it, and Midget Mac especially refuses to get into the bikini. He starts a fight with Hoopz and manages to insult every woman in the room, as well as the men on their behalf, so great start for Midget Mac. He opts out of the competition, as does Chance when he realizes he has to take off his bandana and he does not want the others to see his hair.
Whoever gets the most money will be safe from elimination and be the new team captains. The two captains will choose teams for the competition and will also be the deciding factor of who goes home the first night. Megan and Brandi C are quickly disqualified for not following the very first rule and not picking money off the floor. The prize goes to Hoopz and Whiteboy, who are then privy to every person in the house sucking up to them for the rest of the day.
In the end the teams are set, and Midget Mac is non-surprisingly sent home. He seems to be the only one in shock, although he verbally abused the others and refused to compete. Officially, the Gold Team is: Hoopz, Rodeo, 12 Pack, The Entertainer, Heather, Toastee, Pumpkin, and Nibblz. The Green Team is: Whiteboy, Chance, Real, Mr. Boston, Heat, Destiney, Megan, and Brandi C (who sprained her ankle trying to prove herself!).
This looks to be quite a summer of romance, screaming matches, fist fights, double crossing, and difficult tasks ... all for the audience's amusement. Welcome to "I Love Money."
Story by
Chelsea 'Dee' Doyle
Starpulse contributing writer