Mickey Rourke Laments Tearing His Bicep While Researching Rugby Role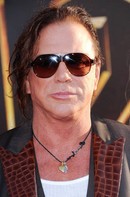 Mickey Rourke is left with a lasting reminder of his preparation to play rugby ace Gareth Thomas on the big screen, after tearing his bicep by arm wrestling with a bunch of players on a boozy night out.
 
The Wrestler star has signed up to tell the true story of Britain's first openly gay rugby player in an as-yet-untitled film and went on a night out with members of the Huddersfield Giants rugby team in the name of research.

However, after an arm wrestling competition got out of hand, Rourke was left with an injured muscle and a bruised ego.

Speaking on British TV show David Haye Vs he says, "I was out with the Huddersfield (team) and we were arm wrestling. I had walked into (the bar) that night and thought, 'Oh f**k, I hope those guys don't get rowdy', because there was just me and four of them. And they were really nice and we started arm wrestling, and I did okay for a while, until this big f**king lump came in, and we were alright (arm wrestling) for a couple of minutes but then finally my right bicep tore right down."

"But I didn't feel it, just kept drinking, drinking shots. (My arm) will never be right again."