Mickey Rourke Gets Raw And Emotional About Big Changes In His Life And His 'Piece Of Crap' Movies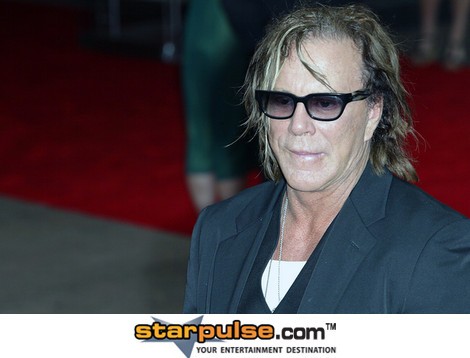 Mickey Rourke has never really played the Hollywood game. Sometimes it cost him his career, but recently some filmmakers found ways to bring out his best work and let him keep being Mickey Rourke. When he talks about those films, he's as raw and honest as ever.

Immortals opens this weekend, with Rourke as the villain, King Hyperion. The ancient Greek legends of Theseus (Henry Cavill), his soldiers and the gods have to defeat Hyperion. With his hands and footprints now preserved in cement at Grauman's Chinese Theater, it seems like things are looking up for Rourke, but he keeps it real.

Q: Congratulations on getting your hands and footprints in the cement at Grauman's Chinese Theater.

MR: You're probably more excited about that than me. Yeah.

Q: At this stage in your career after the resurgence, isn't that a fantastic thing?

MR: Thank you.  I don't have to sit in my house anymore waiting for the phone to ring for twelve years.

Q: Is that not a big deal to you at Grauman's?

MR: No, you know what, maybe a long time ago it would have been but for some reason maybe down the line it will be but you know right now, I hear they're putting everyone in there. No, not yet. Maybe in a couple of years it'll mean something to me.

Q: Career-wise, what does mean a lot to you over the last couple of years?

MR: I think probably, to be honest with you, when I was out of work thirteen, fourteen years, whatever the hell it was I remember writing I went back to Cannes with Rodriguez for Sin City. And I was sitting in the car and I thought, "Oh my God I'm getting a chance again." Because all the years go by and it's thirteen years or that many years and you're living in a room. After like seven years go by I think, 'Yeah, I really f*cked up,' and then ten years go by and it's like they're not gonna let me back in the door again. Especially I was out here and this is the worst place to be when they grind you into the ground. They can't wait to do it and I helped them do it. I really thought I could turn it around in a year or two and they'd let me back in but it just didn't happen and so I thought it's too shameful and degrading to feel like this. I was really close to going back to Miami and doing I don't know what but I wasn't gonna sit around and be yesterday's news. That's just too hard. I remember buying a pack of cigarettes. I was in the line and it was like two in the morning. Some *sshole, some fat guy goes, "Hey didn't you used to be…?" And he mentioned the wrong name! I remember walking two blocks going, "Oh f*ck!" I'm very grateful that period is over. And I'm very capable of having that happen again so I've gotta watch myself on a daily basis, you know?