Mickey Rourke Drops Out Of 'Expendables 2'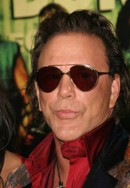 Actor Mickey Rourke has dropped out of the new Expendables movie to work alongside Colin Farrell on Seven Psychopaths, according to reports.

The Wrestler star, who played Tool in the first film in Sylvester Stallone's action franchise, was expected to resurrect his character again in 2012's The Expendables 2, alongside Jason Statham, Bruce Willis and Jean-Claude Van Damme.

But, now Rourke has decided to walk away from the film due to the low pay check and is in negotiations to star in Martin McDonagh's movie instead, according to Deadline.com.

Farrell takes the lead in the project about a struggling screenwriter who helps kidnap a gangster's dog.