Mickey Rourke Driven To 'Jimmy Kimmel Live!' By 50 Cent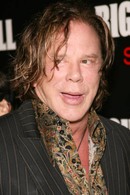 Rapper 50 Cent stunned Mickey Rourke on Tuesday when he offered to give him a ride to his interview on Jimmy Kimmel Live! in his electric blue Rolls Royce.

The movie star was waiting for his taxi when the "In Da Club" singer rolled up in style and asked if Rourke needed a lift.

The actor says, "I hear, 'Hey, white boy, I'll give you a ride.' I'm starting to get in and he says, 'Woah, woah... what you got on your shoes...? Be careful with them nasty shoes. I don't know where you were walking.' It was Fiddy. He gave me a ride, dropped me off.

"I know him a little bit but I thought, 'Wow!' There was no bodyguards, no entourage - just him."

And the actor revealed the rapper used the short drive to pitch for a role in The Wrestler star's upcoming biopic about Welsh rugby star Gareth Thomas.

He added, "He goes, 'I wanna do The Beautiful Game...' I said, 'How do you know about that...?' Maybe he purposefully picked me up."