Mickey Rourke Deems Carre Otis' Book 'Delusional And Narcissistic'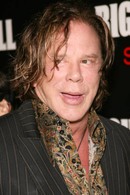 Actor Mickey Rourke has accused his ex-wife of "chasing the buck" by detailing their relationship in a new book.

The Wrestler star wed Carre Otis in 1992 after they co-starred in movie Wild Orchid, but their tumultuous union was rocked by allegations of domestic abuse and the model/actress' heroin addiction. They divorced six years later.

In her new memoir, Beauty, Disrupted, Otis claims she only married Rourke because she was terrified he would kill himself if she turned down the offer - and the actor is unhappy with her allegations.

Rourke tells CNN talk show host Piers Morgan, "From what I've heard about it... It's probably kind of like a little bit of sour grapes, chasing the buck and a delusional, narcissistic self-centered point of view."